Anyone wishing to understand the details of apochromatic objectives should first examine the workings of achromats. Because in essence "apos" are simply achromats with improved color correction, and all the general considerations which apply to the design and construction of achromats also apply to apochromats. Many matters which I dealt with in Chapters 3a and 3b, I will not discuss afresh but assume the reader to have absorbed from the previous discussion.
We have noted that despite the vast improvement in color correction afforded by an achromat versus a singlet lens, there is still considerable color error. Starting in the 19th century glass makers and optical designers experimented toward producing better optical materials and designs which would give more color-free images than an achromat could provide. Already Fraunhofer himself about 1817 had begun searching for better glass types [R. Riekher,
Fernrohre und ihre Meister
, 2nd. ed. (Verlag Technik, 1990), p. 164]. Then sometime around 1881 Ernst Abbe, the famous German optical designer, found that natural crystals of calcium fluoride (fluorite) had excellent properties which would allow far superior color correction in microscope objectives [cf. M. von Rohr,
Abbe's Apochromats
(Jena, 1938), p. 21]. But the only suitable natural crystals of fluorite were small. There was no possibility of making a large telescope objective.
During the Second World War that situation changed with the development of artificial fluorite crystals by D. Stockbarger and his associates at MIT [cf. D. Stockbarger, "Artificial Fluorite,"
Journal of the Optical Society of America
39.9 (1949), pp. 731-740]. And nowadays fluorite is routinely used in telescopes and there is an industry of artificially grown crystals. The problem, however, with using a crystal instead of an amorphous material like glass is that crystals cleave along natural fault lines. Thus fluorite, despite its wonderful optical properties, can fracture spontaneously during fabrication or as a result of shocks and rapid temperature changes during use. Moreover, fluorite is very soft and could be slowly etched by water, making a fluorite lens used in a dewy environment possibly subject to damage. Coatings are available to protect the fluorite, but certainly it is hard to consider a fluorite objective as robust as an achromat or apochromat made of stable glasses.
In the 19th century, however, fluorite for telescopes was out of the question. Instead, Abbe and the chemist Otto Schott in 1881 began systematic experiments toward devising crowns and flints which would disperse light more nearly alike one another than anything then available [cf. S. Czapski, "Mittheilungen über das glastechnische Laboratorium in Jena und die von ihm hergestellten neuen optischen Gläser,"
Zeitschrift für Instrumentenkunde
6 (1886), 293-299 & 335-348, especially 293-299; F. Auerbach,
The Zeiss Works and the Carl Zeiss Foundation in Jena
(London,1927), pp. 2-26; and H. Hovestadt,
Jena Glass and its Scientific and Industrial Applications
(London,1902), pp. 1-8].
The reader may remember from the discussion in Chapter 3a that the reason why an achromat cannot produce a perfectly color-free image is that crown glass disperses light somewhat differently from flint. In particular, if two singlet lenses are made--one of a standard crown, the other of a standard flint--and given such curves that the total amount of spectral dispersion (from violet to deep red) produced by each is the same, then by comparison with the crown, the flint will appear to disperse the red parts of the spectrum too little and the blue parts too much [cf. L. Bell,
The Telescope
(Dover reprint, 1981), p. 88; and Riekher, p. 164; cf. also Hovestadt, pp. 8-25, who discusses the chemistry involved in affecting the dispersions of glasses]. These differences can be quantified and values assigned to the amounts of dispersion in various parts of the spectrum, the values being called "partial dispersions." The partial dispersions of flints are not commensurable to those of crowns, and it is this incommensurability, the so-called "irrationality of dispersion," which causes imperfect color cancellation. The amount of outstanding color is known as "secondary longitudinal chromatic aberration" or "secondary spectrum," in contradistinction to the "primary longitudinal chromatic aberration" or "primary spectrum" of singlet lenses.
Schott and Abbe had some luck with new crown glasses, but more with new flints, obtaining in both cases a series of "abnormal dispersion" types. The crowns involved the use of phosphoric acid, and in later Schott terminology came to be designated as the "PK" or "PSK" glasses. "PK" stands for "Phosphatkron," i.e. "phosphate crown" in German. The new flints involved the use of boric acid, and at the time were therefore called "borate flints" or "boro-silicate flints," but later came to be known as "short flints" because their dispersion of blue light is unusually "shortened" or compressed for a flint, more closely resembling a crown. In later Schott terminology they were designated "KzF" or "KzFS" glasses. The "KzF" abbreviation stands for "Kurzflint," i.e. "short flint."
At first various designers used these new glasses to make doublets with reduced secondary spectrum, achieving a reduction of 1/2 or more in the ordinary color. But the glasses were unstable or difficult to work. Then in 1894, H. Dennis Taylor at Cooke & Sons succeeded more fully by combining two normal glasses, a light barium flint and a light silicate crown, to make a composite positive element whose relative partial dispersions closely matched those of a selected short-flint negative element. Taylor's triplet is the ancestor of most current apochromats, in the sense that they are also triplets. Cooke & Sons made a number of these new objectives (some still in existence), and called them "Photo-visuals" because one could photograph and observe visually at the same focal position, unlike achromats where special arrangements had to be made in order to photograph successfully (extra or reversed lens elements, changes in lens spacing, and filters were all used).
Taylor seems to have hoped that large observatory apochromats would be built, but by 1910 the age of huge visual refractors was over. The first large telescope of the 20th century was the 60" reflector built by Hale and Ritchey on Mt. Wilson. It was so much more versatile and compact, and its aperture so much larger than any previous refractor, that it became the model for all the largest professional telescopes down to today. Apochromatic telescope lenses were relegated to something of a side-show; not even much sought for by amateurs who preferred to spend their usually meager funds on achromats, or (especially from the 1920s) to build their own reflectors.
Yet apochromats continued to be made, particulary by Carl Zeiss in Germany (Abbe's employer), which developed three styles: a doublet "half-apochromat" built down to a speed of f/11, called the "AS" or "Astro-Spezialobjektiv," with about 1/2 the usual secondary spectrum (designed by A. Sonnenfeld); a triplet built down to f/15 and modelled on Taylor's lens, called the "B" objective (designed by A. König) which exhibited excellent color correction; and a second triplet built down to f/11, employing dense flint glasses and called the "F" objective (designed by H. Köhler & R. Conradi), which roughly equalled the AS objective in color correction, but whose radii of curvature were much weaker, making the lens easier to build and mount [cf. Riekher, pp. 212-216; A. Sonnenfeld, "Der Königsche Apochromat B,"
Zeitschrift für Instrumentenkunde
61 (1941), pp. 261-264 ; A. König and H. Köhler,
Die Fernrohre und Entfernungsmesser
, 3rd ed. (Springer Verlag, 1959), pp. 61-62, & 128-139; J.G. Baker, "Planetary Telescopes,"
Applied Optics
2.2 (1963), pp. 111-129, especially pp. 117-118; and G. Mann & A. Sonnenfeld, "70 Years Astronomical Instruments Department (sic), Part I: 1897-1946,"
Jenaer Rundschau
12.3 (1967), pp. 159-170].
Because of their expense, small apertures, and delicacy, for many years apochromats made no large impression in the amateur telescope market. But by the 1980s that changed when improved glasses and the use of index-matching oils and special tapes made it possible to construct simpler, cheaper oil-spaced triplets. At the same time, more affluent buyers could choose fluorite objectives with nearly perfect color correction. This occurred because of the commercial industry to grow artificial fluorite crystals. Not only that, but Schott Glass Technologies and the Japanese glass manufacturer Ohara, building on Otto Schott's early work with abnormal dispersion crowns and his attempts to introduce fluoride compounds into the glass melts, began to market crown glasses that approached fluorite in their optical properties. These are called the "fluor-crowns" and are often designated "ED" or "extra-low dispersion" glasses, because their total dispersion is much lower than ordinary glasses and in the extreme cases approaches the extent and quality of fluorite itself.
Once ED glasses became readily available and a lucrative market was found to exist for high-end "apos," manufacturers dropped the use of short flints and redesigned their products using the more expensive fluor-crowns instead. This also occurred because the fluor-crowns' chemical stability was far superior to that of short-flint glasses, and their low, abnormal dispersions made even better color correction possible, using longer radii of curvature. They thus opened the door to the shorter focal ratios, which amateurs demanded. Moreover, since fluor-crowns are true glasses, not crystals, they are more shock resistent than fluorite and capable of being fabricated with conventional glass working technologies.
Ohara is at present a major supplier of ED glasses (although other firms also melt them). They produce three varieties, called "FPL 51," "FPL 52," and "FPL 53." FPL51 is the least abnormal and delicate, while FPL53 (the latest to be marketed) is much softer and can be broken rather easily, though it is less fragile than fluorite. Its optical properties, however, come closest to fluorite of any true glass. And so it is widely used in triplet apochromats today. Doublet apochromats employing ED glasses are also marketed, though not as extensively.
Over the years there has been a trend toward faster and faster apochromatic telescopes. The earliest half-apochromats had focal ratios around f/15-f/20, just as slow as the largest visual achromats of the 19th century. H. Dennis Taylor's triplet came in at f/18. Zeiss's B objective was built at f/15. The 1980's short-flint lenses were faster, about f/12-f/10. By the 1990s with the arrival of the ED triplets, f/ratios declined to f/9. Presently, f/6-f/8 seem common speeds for 100-125mm lenses, and f/7-f/9 for 150mm and larger glasses.
In recent decades, this trend has been driven by amateurs' desires for compact telescopes which can easily be transported to dark-sky sites, and which can act as telephoto lenses as well as high-resolution visual telescopes. And it is true that spectacular astrophotos have resulted, since the lenses are often astonishingly well corrected. However, the drive for faster visual refractors is not intrinsically good. Telephoto lenses should properly be designed to serve one function, and visual refractors another. The latter are instruments of high-resolution
par excellence
. To obtain the proper image scale for easy magnification, one ought in principle to seek for long focal ratios, which can then employ long focus eyepieces and achieve a sharper, more comfortable high-power image for viewing. Whereas telephoto lenses often do not need to give diffraction limited images, since they are used at the prime focus and the image scale is usually too small for the detector to resolve to the theoretical limit for the aperture. Therefore, telephotos can use their available degrees of optical freedom to correct not
on-axis
aberrations, but such off-axis ones as distortion, coma, astigmatism, oblique spherical aberration, and the all-important field curvature. High-resolution, narrow-field lenses can concentrate on the axial aberrations. Each system will do its best without unfortunate compromises.
Of course, my comments will not change the situation, but a well-informed user of telescopes is best advised to seek out not compromise instruments, but dedicated ones: one for high-resolution imaging, another for prime focus astrophotography, etc. Dedicated instruments will provide the best service and performance.
B. Apochromatic Doublets.
As noted above, initially in the 19th century designers tried to make apochromats from just two lenses, in imitation of the doublet achromat. Abbe had assigned this task to his young colleague Siegfried Czapski about 1884, when the new Schott glasses became available [cf. Riekher, p 213]. Czapski produced several designs which were ably executed by the optician Carl Bamberg in Berlin. One design may have involved a standard Fraunhofer or Steinheil-type aplanat. According to H. Hovestadt, the glasses used were Schott's S.30 and S.8. The former was a dense barium phosphate crown and the latter a borate flint [cf. Hovestadt, p. 26 & 129-132]. Both glasses belonged to the early Schott category of "S" or "Specialschmelzung" because they required a "special melting" done with particular attention in a small crucible [cf. S. Czapski,
Zeitschrift für Instrumentenkunde
6 (1886), p. 341, n. 1)]. Both were chemically unstable as events later proved [cf. Hovestadt, p. 26; 387 ("Appendix"); & 406; and cf. A.C. Ranyard's remarks at
Observatory
213 (April, 1894), p. 134].
Bamberg produced two of these objectives, which were sent to the astronomer H.C. Vogel in Potsdam for testing, where he found that they nearly abolished the secondary spectrum [cf. H.C. Vogel,
Vierteljahrschrift der Astronomischen Gesellschaft
22 (1887), pp. 142-143]. Vogel published a review article about the lenses, noting that the first had an aperture of 134mm and a focal length of 1973mm, yielding an aperture ratio of about f/14.7; and the second had an aperture of 176mm and a focal length of 2500mm, yielding an aperture ratio of f/14.2.
In order to give some idea of how these lenses may have performed, I have designed a 176mm f/14.2 aplanat using the same two glasses, whose indices and partial dispersions are supplied by Schott's 1886 glass catalog as reproduced in Hovestadt (pp. 26-28). The analysis must be regarded with due caution, since that catalog was much less detailed than present-day glass catalogs, giving only 5 refractive indices for each glass. The paucity of indices has necessitated the use of Conrady's less accurate formula for modelling and interpolating other indices. Still, if we compare the ZEMAX results with Vogel's measures of Czapski's actual lenses, and with Czapski's own calculations and color curve, my design appears plausible [cf. Vogel, p. 143; S. Czapski,
Zeitschrift für Instrumentenkunde
6 (1886), p. 343, & S. Czapski, in A. Winkelmann,
Handbuch der Physik
, 2nd. ed. (Verlag J.A. Barth, 1906), vol. 6, p. 177].
The prescription is as follows:
| | | | | | | |
| --- | --- | --- | --- | --- | --- | --- |
| Surface | Type | Radius | Thickness | Glass | Diameter | Conic |
| Object | Standard | Infinity | Infinity | | 0 | 0 |
| Stop | | 1515.224 | 17.5 | S.30 | 180 | 0 |
| 2 | | -412.627 | 0.1 | | 180 | 0 |
| 3 | Standard | -411.153 | 10 | S.8 | 180 | 0 |
| 4 | Standard | -30350 | 2482.947 | | 180 | 0 |
| 5 | Standard | Infinity | -0.110 | | 43.671 | 0 |
| Image | | -951.896 | | | 43.370 | 0 |
Table 1: 176mm f/14.2 Apochromat using early Phosphate Crown/Borate Flint
This is a Fraunhofer-type doublet. As can be seen from the layout below, the interior curvatures are rather strong:

1. 176mm f/14.2 Short-Flint Apochromat
The axial ray fan plot and spot diagrams are remarkable for a short-flint doublet. The correction is so good that I have included curves for two additional colors which will regularly appear in subsequent ray fan plots, namely deep red at 0.707 micron (the r-line), and violet at 0.436 micron (the g-line), thus covering in effect the whole visual spectrum: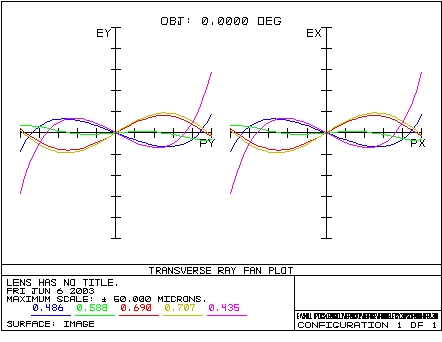 Figure 1: Axial Ray Fan Plots for 176mm f/14.2 Short-Flint Apochromat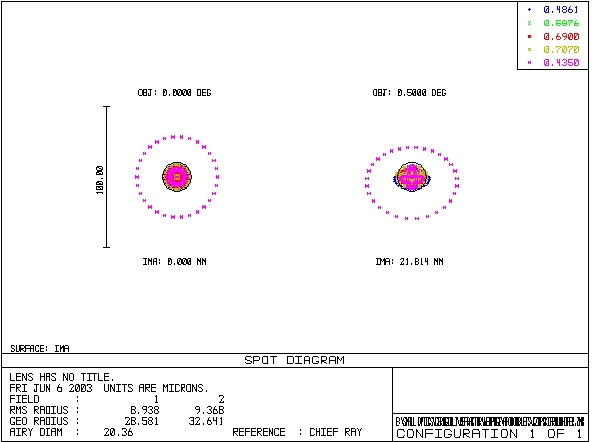 Figure 2: Spot Diagrams for 176mm f/14.4 Short-Flint Apochromat
The color correction is essentially perfect across the visual spectrum. And to show that these ZEMAX results are not implausible, I append the chromatic focal shift diagram for the lens and a table comparing its focus errors to those which Vogel measured in Czapski's actual lens: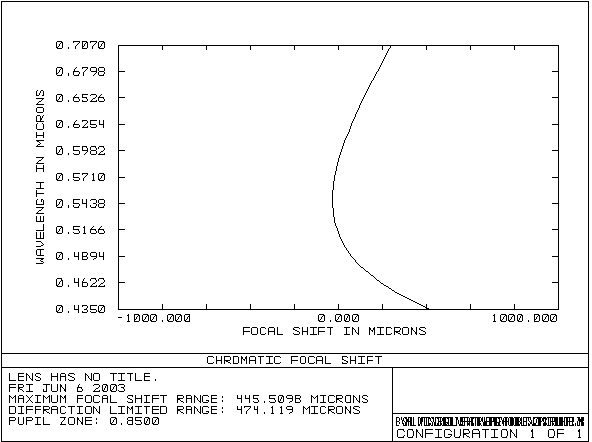 Figure 3: Chromatic Focal Shift Diagram for 176mm f/14.2 Apochromat
| | | | | |
| --- | --- | --- | --- | --- |
| Wavelength | Vogel's Data (df/f) | Vogel's Data (microns) | Data for above Lens (microns) | Data for Achromat (microns) |
| 0.710 micron | 0.00002 | 50 | 200 (?) | 3,000 |
| 0.650 micron | 0.00005 | 125 | 100 | 1,000 |
| 0.590 micron | 0.00000 | 0 | 0 | 0 |
| 0.530 micron | -0.00010 | -250 | 0 | -200 |
| 0.470 micron | 0.00005 | 125 | 200 | 2,000 |
| 0.410 micron | 0.00040 | 1,000 | 1,000 (?) | 11,000 |

Table 2: Comparison of Focal Shift Errors Between the Above Lens and Czapski's Actual 1886 Apochromat

Vogel presents his data as a small fraction, namely that formed by dividing the focal length for the D wavelength into the difference between the focal length for each of the 6 wavelengths shown in column 1 and that of the D wavelength: that is to say, [F(lambda x)-F(lambda D)]/F(lambda D), where F(lambda x) is the focal length for a given wavelength, and F(lambda D) is the corresponding focal length for the D-line. This tells us the focal length error of each wavelenth with respect to D as a fraction of the total focal length of the lens. These fractional numbers appear in column 2. But in order to compare Vogel's numbers with the chromatic focal shift diagram shown in Figure 3 above, we do not need a frational focal length error, but instead a focal length error in microns. Therefore, in column 3 I have multiplied Vogel's data by 2,500,000 microns (the specified focal length of Czapski's objective in D-light) in order to give F(lambda x)-F(lambda D) directly. In other words, column 3 gives the difference in focal length between the D-ray and any other ray. Column 4 gives the chromatic focal shift in microns for my lens design, the numbers being derived from Figure 3. Column 5 gives the equivalent numbers for a 176mm f/14.2 achromat made of standard glasses. Because of how Vogel and I have obtained our numbers, they are all very approximate.

It is clear that while the focal shift distances given in column 4 for my lens do not precisely match those of Vogel, they are not unreasonable different. One has only to compare those numbers with the corresponding numbers for the achromat in column 5 to see that the two former sets are in fact relatively close to one another. Moreover, we could not expect a perfect match between columns 3 and 4, since in the first place Vogel was measuring an average focus distance for each of his colors irrespective of spherochromatism, which is large for many wavelengths. In other words, he was measuring a focus error for each color integrated over the whole entrance pupil. Whereas, my focal shift diagram shows the focus error for a single pupil zone only (the 90% zone, see discussion below). And in the second place, as I noted earlier, my design is based on somewhat doubtful interpolated values for the indices of refraction of the two glasses, S.30 and S.8.

Thus, we should view the above ray fan plots, spot diagrams, and other interpretative graphs produced by ZEMAX as merely suggestive of the approximate performance of Czapski's lens. Still, it is clear especially from Vogel's report that the lens performed extremely well.

A second 1886 design from Czapski is more securely documented. It consisted of a 134mm f/15.6 flint-forward Gauss doublet, apparently composed of Schott S.7 borate flint, and S.30 dense barium phosphate crown. H. Krüss in a contemporary article gives the radii of curvature, thicknesses, and the separation of the elements, as well as a calculated focal length [cf, H. Krüss, "Die Farben-Correction der Fernrohr-Objective von Gauss and von Fraunhofer,"
Zeitschrift für Instrumentenkunde
8 (1888), pp. 7-13, 53-63, & 83-95, especially pp. 60-61; and also Hovestadt, pp. 137-140]. Krüss also supplies 5 refractive indices for each glass type. He indicates that all this information was supplied to him directly by Czapski. The lens was actually made by Bamberg and exhibited in September, 1886 at the Meeting of Natural-Reseachers (Naturforscher-Versammlung) in Berlin.
Using Krüss's index data and specifications, I have modeled the behavior of Czapski's lens in ZEMAX. The results are shown below. First I give Czapski's prescription and the corresponding layout, then the axial ray fan plot and spot diagrams. Note that once again, we must treat the analysis with caution since it depends on an insufficient number of refractive indices. Still, the ZEMAX results suggest a good approximation to how the real lens would have performed:
| | | | | | | |
| --- | --- | --- | --- | --- | --- | --- |
| Surface | Type | Radius | Thickness | Glass | Diameter | Conic |
| Object | Standard | Infinity | Infinity | | 0 | 0 |
| Stop | | -226 | 7.5 | S.7 | 140 | 0 |
| 2 | | -400 | 2 | | 140 | 0 |
| 3 | Standard | -1256 | 12 | S.30 | 140 | 0 |
| 4 | Standard | -278.7 | 2085.542 | | 140 | 0 |
| 5 | Standard | Infinity | 0 | | 35.315 | 0 |
| Image | | Infinity | | | 35.315 | 0 |
Table 3: Czapski's 134mm f/15.6 Flint-Forward Gaussian Half-Apochromat

2. Czapski's 134mm f/15.6 Flint-Forward Gaussian
Half-Apochromat
The color correction is not as good as in the last lens, but is only about 1/2 as bad as in a standard achromat. Therefore, the design may be called a "half-apochromat." That level of performance corresponds precisely with Czapski's own calculations [cf.
Zeitschrift für Instrumentenkunde
6 (1886), p. 342], and resulted from the necessity of using what was apparently S.7 borate flint instead of S.8. It seems that Czapski could not have used the latter, better glass in the present lens, since it would have left a residue of severe 5th order spherical aberration, difficult for Bamberg to correct by figuring.
The axial ray fan plot shows good agreement with the design objective of a half-apochromatic Gaussian lens. Spherochromatism, or "Gauss error" is almost completely corrected, red and blue focus together in the marginal (100%) zone, and secondary spectrum is about 1/2 as bad as in an equivalent achromat. The ZEMAX result, based on Czapski's prescription and indices, appears convincing.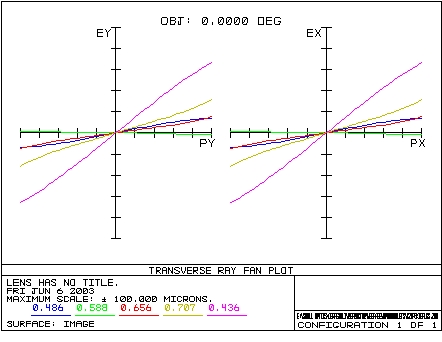 Figure 4: Axial Ray Fan Plots for Czapski's 134mm f/15.6
Flint-Forward Gaussian Half-Apochromat
The spot diagram shows the improved color correction. Red and blue nearly fit inside the Airy disk, instead of forming a blur of about three times larger, as they would in an equivalent achromat.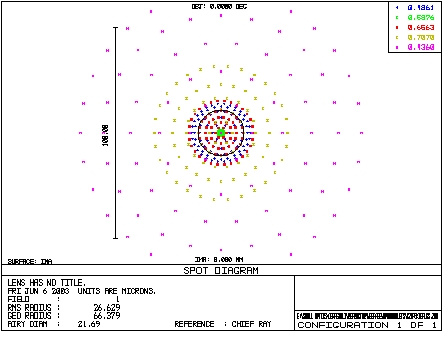 Figure 5: Axial Spot Diagram for Czapski's 134mm f/15.6
Flint-Forward Gaussian Half-Apochromat

Of course, as a telescope objective this Gaussian lens would not be very good, since it shows strong coma off-axis. But for use in a visual spectrometer, where the field-center would presumably be most important, it has the advantage of reduced color error and practically no spherical aberration, leading to sharply focused spectral lines.

Czapski's lenses caused a great stir at the time. But alas, as events soon showed, the most desirable new Schott glasses were also the most fragile, the least stable, and the hardest to produce. In 1889, Czapski stated that enough progress had been made in Schott's glass manufacturing that they could safely anneal disks of the ordinary glasses up to 40", and the special glasses up to 12". Bamberg, he noted, was prepared to make various objectives up to "any desired scale" [cf. Observatory 150 (June, 1889), p. 255-256]. Yet apparently, there was no great rush from astronomers. Microscopists were finding that some of the Schott glasses in their amazing new Zeiss lenses degraded and eventually became useless, especially in damp and humid climates [cf. S. Bradbury, The Evolution of the Microscope (Oxford, 1967), pp. 266-267].

The next major step in the development of apochromats came from Taylor in England, whose triplet will be discussed in Chapter 4b. As to Schott, they continued working on the stability of their abnormal dispersion glasses. The original phospate crowns and borate flints were withdrawn in 1902, explicitly because of their instability [cf. Hovestadt, p. 387 ("Appendix")]. Only one "Specialschmelzung" glass remained: their highest density flint. In the new year of 1897, their partner Zeiss established its "Astroabteilung" or "Astronomy Division" under the direction of Max Pauly, an astronomer and amateur optical man [cf. Riekher, p. 213]. And by the same year, the company featured a whole new line of apochromatic microscope objectives, using improved glasses and lens designs [cf. Bradbury, p. 267].

For his part, Pauly brought out a new apochromatic telescope doublet (designed by A. König) in September of 1898, and presented it to Max Wolf, the director of the Heidelberg Observatory, for examination. Wolf's review appeared in January 1899 on page 1 of the prestigious opto-mechanical journal, Zeitschrift für Instrumentenkunde. The review was extremely favorable, explicitly noting the objective's improved robustness and stability [M. Wolf, "Ueber ein Fernrohrobjektiv mit verbesserter Farbenkorrektion," Zeitschrift für Instrumentenkunde 19 (1899), pp. 1-4, especially p. 4; and G. Mann & A. Sonnenfeld, "70 Years Astronomical Instruments Department (sic), Part I: 1897-1946," Jenaer Rundschau 12.3 (1967), pp. 159-170, especially p. 159]. It was a large objective (212mm aperture) of great focal length (4450mm) and ratio (f/21), according to Wolf. And it performed splendidly producing high constrast images with no visible color error.

Unlike Czapski in 1886, Pauly did not reveal any details of the objective's construction, perhaps because Zeiss intended to make the design part of its new product line. At any rate, it seems that from 1899 onward the Zeiss' astronomical catalog featured a doublet objective with reduced secondary spectrum. According to Hovestadt, this objective was manufactured in sizes from 50 to 450mm and focal ratios from f/17 to f/20. Its crown element, alas, could not always be made "quite free from streakiness" [cf. Hovestadt, p. 143]. The size-range, the focal ratios, and particularly the slight imperfections of the crown element are reminiscent of Wolf's objective, which he noted contained "small veins" ("kleine Bläschen," p. 1).

The crown in question was probably Schott's O.2388, which the 1902 catalog noted was "[never] quite free from bubbles and veins" [cf. Hovestadt, p. 388]. The catalog recommended combining this crown glass with the flint O.2001, since the pair "almost completely abolish[ed] the secondary spectrum" [cf. Hovestadt, p. 387 ("Appendix")]. Schott dubbed the pair of glasses "Telescopic Crown" and "Telescopic Flint" in order to underscore their importance [cf. Hovestadt, pp. 388 & 390]. The designation of these glasses as type "O" advertised their capacity to be produced by regular or "ordentlich" melting methods, unlike the older, difficult-to-melt and potentially unstable "S" glasses.

Although Wolf never specified the glass types in Pauly's objective, an article by R. Steinheil printed in the June 1899 issue of the Zeitschrift für Instrumentenkunde, describes the glasses as new, capable of diminishing the secondary spectrum, but not allowing a focal ratio faster than f/20 or f/18 [cf. R. Steinheil, "Farbenkorrektion und sphärische Aberration bei Fernrohrobjektiven," Zeitschrift für Instrumentenkunde 19 (1899), 177-183]. Though not naming the glasses, Steinheil provided seven refractive indices for each and specified each index to six decimals, as if he had measured them himself from actual prisms in his possession. Possibly that is true, since the early Schott catalogs gave nothing like so much detail, and it is difficult to see where else Steinheil acquired this depth of information. Certainly in the 1920s, Charles S. Hastings, the American physicist and optical designer, assumed that the glasses in question were indeed "Telescopic Crown" and "Telescopic Flint," when he discussed the probable performance of an objective made with these glasses [C.S. Hastings, New Methods in Geometrical Optics (MacMillan, 1927), pp. 63-65].

Hastings noted that according to his calculations these glasses would give a half-apochromat at best. And it is true that if one uses the indices as derived from the 1902 catalog to model a lens in ZEMAX, the result is much inferior to Wolf's mesures of Pauly's lens, and to Steinheil's calculations based on his reported indices. On the other hand, if one models a lens in ZEMAX using Steinheil's amply reported indices, one obtains a beautifully color-corrected objective similar to, but not quite as good as the lens shown above in Figures 1 and 2. Moreover, this ZEMAX lens conforms very well to Steinheil's calculated color curves and rather well to Wolf's measures of Pauly's actual lens. So here there is a mystery. "Telescopic Crown and Flint" do indeed "almost completely abolish the secondary spectrum"--so long as we accept Steinheil's reported indices as describing them, and regard the 1902 Schott catalog values as somehow erroneous. Hasting's himself had noted an error in the reported index of another glass in that catalog [cf. Hastings, p. 98].

However that may be, the success of the new lens led to Zeiss's marketing it as the "A" objective [cf. Riekher, p. 213-214]--probably the same lens which Hovestadt notes as feasible up to 450mm. Many years later in 1926, the design was revised by A. Sonnenfeld, who produced a Steinheil arrangement, renamed the "AS" or "Astro-Spezialobjektiv." In this later form, which could be built as a half-apochromat to f/11 with suitable aspheric figuring, the maximum aperture was apparently limited to 250mm [Rieker, p. 243; and A. König & H. Köhler, Die Fernrohre und Entfernungsmesser, 3rd ed. (Springer, 1959), pp. 61-62; 128-131; 133, n. 5; & 139]. Thus were born the first production doublet apochromat and half-apochromat.

In America, Hastings formulated a rather similar design to the "A," detailed on page 61 of his book, New Methods in Geometrical Optics (MacMillan, 1927). From much earlier in his career he had taken an interest in the reduction of secondary spectrum, publishing several articles about it. One article dates from 1879 and discusses the feasibility of an apochromatic triplet made with the glasses then in existence [cf. C.S Hastings, "On Triple Objectives with complete Color Correction," The American Journal of Science and Arts, 3rd series, vol. 18 (1879), pp. 429-435]. Hastings showed that indeed several combinations might be possible, thereby anticipating H.D. Taylor in this idea by some years. A second article published a decade later took up the matter again, as well as how to build a doublet with reduced color from the new Schott glasses [cf. C.S Hastings, "A General Method for determining the Secondary Chromatic Aberration for a double Telescope Objective, with a description of a Telescope sensibly free from this defect," The American Journal of Science and Arts, 3rd series, vol. 37 (1889), pp. 291-298]. By 1894 Hastings seems to have patented his doublet [cf. Taylor, p. 80].

Now, in order to understand better the optical limitations of such doublets, using contemporary glasses let us redesign Czapski's 1886 lens of S.8 and S.30. The extra dense crown, SSKN8, when combined with the short-flint, KzFSN4 leads to the following objective:

| | | | | | | |
| --- | --- | --- | --- | --- | --- | --- |
| Surface | Type | Radius | Thickness | Glass | Diameter | Conic |
| Object | Standard | Infinity | Infinity | | 0 | 0 |
| Stop | | 1727.369 | 20 | SSKN8 | 160 | 0 |
| 2 | | -239.534 | 0.1 | | 160 | 0 |
| 3 | Standard | -239.026 | 10 | KzFSN4 | 160 | 0 |
| 4 | Standard | 16186.6 | 2978.928 | | 52.441 | 0 |
| 5 | Standard | Infinity | -0.43973 | | 52.391 | 0 |
| Image | | -1145.26 | | | | 0 |
Table 4: 150mm f/20 SSKN8/KzFSN4 Doublet
.
This is a Fraunhofer-type doublet. Unfortunately, the radii on surfaces 2 and 3 have now become very strong--as they are liable to do in short-flint doublet apochromats--leading to unpleasant residual aberrations, to be shown in a moment. First, however, I gave the layout to show how strong the interior curves are:


3. 150mm f/20 SSKN8/ KzFSN4 Doublet
The axial ray fan plots and spot diagrams look as follows (for clarity I have restricted myself to three wavelengths, C-, e-, and F-):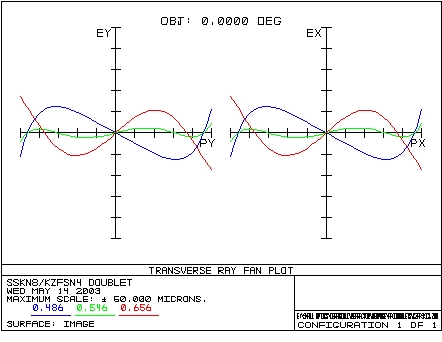 Figure 6: Axial Ray Fan Plots for 150mm f/20 SSKN8/KzFSN4 Doublet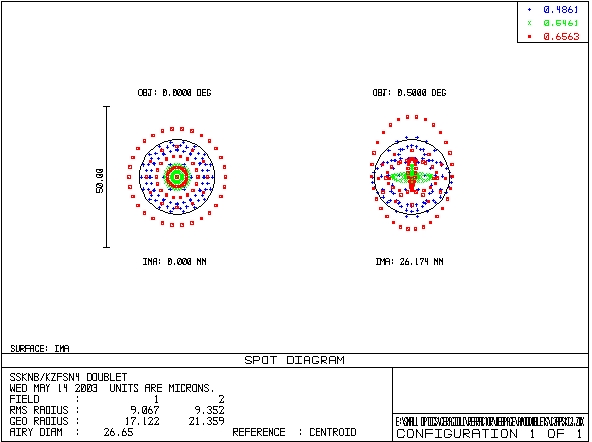 Figure 7: Spot Diagrams for 150mm f/20 SSKN8/KzFSN4 Doublet


As is easily seen in Figure 7, the red and blue rays mostly fit inside the Airy disk. In Figure 6, the curves for the three colors nearly intersect at the 80% zone, showing that primary spectrum has been almost eliminated, thus providing a big improvement in color correction over a standard achromat. Yet the lens's performance is still lacking, because the spherochromatism has now become quite bad. Figure 6 tells the story: green shows a strong 5th order spherical aberration residual, much worse than in an f/20 achromat. Whereas, red shows strong 3rd order undercorrection and blue overcorrection.
And this is at f/20. If we wished to reduce the speed of this lens to f/15 or below, the aberrations would worsen so much that the lens would hardly function. 5th order spherical error would cause green light to extend beyond the Airy disk, ruining the sharp focus. One could aspherically figure the lens in order correct that error, but all aspheric figuring is time-consuming and expensive. Moreover, the spherochromatism of red and blue would remain, creating noticeable zonal color error and thus diminishing the value of the lens as an apochromat. Such a situation, I suspect, existed in Zeiss's "AS" objective when built in larger sizes down to f/11. At that speed the lens was classed as a "half-apochromat" and required aspheric figuring [A. König & H. Köhler,
Die Fernrohre und Entfernungsmesser
, 3rd ed. (Springer, 1959), pp. 61-62; 128-131; 133, n. 5; & 139].
The reason for the messy mixture of aberrations in our lens is the very fast internal curves of the two glasses, caused by their insufficiently different dispersions. KzFSN4 does have somewhat abnormal partial dispersions for a flint, but the overall amount of its dispersion is too close to SSKN8. Which means that although the flint can compensate well for character of the crown's disperion, in order to achieve that compensation it must also nearly cancel out the crown's ability to focus light. So the two glasses are fighting one another, and the crown must be made extremely strong in order to gain the upper hand and focus light. This results in steep internal curves, clearly evident in Layout 3 above. But the steep curves also lead to strong residual aberrations.
Clearly this is a bad situation and something to be avoided. But it brings us finally to the point where we need to define apochromatism, and what qualities we should look for in a good apochromatic lens. The most basic definition of apochromatism is the capacity of a lens to bring three widely separated wavelengths of light to a single focus (i.e. make them "parfocal"). In Chapter 3a (Figure 5) we saw the analgous property of an achromat to make two widely spaced wavelengths, usually C- and F-, parfocal. This caused a dramatic reduction in the extent of the chromatic focal shift for our small 75mm f/7 lenses. That is to say, the longitudinal length over which the foci for wavelengths in the visual spectrum were spread along the optical axis shrank enormously (from 8mm to 0.3mm). Another large reduction (illustrated below in Figure 8) takes place if we can cause a third wavelength, widely separated from the other two, to become parfocal with them. When this occurs, the residual color error--called "tertiary spectrum"--is generally so small that the human eye cannot clearly perceive it. Color correction then looks essentially perfect.
Yet, when the color error becomes so small, the variation of spherical aberration with wavelength, whose effects we see so clearly in Figures 1 and 6 above, can threaten to undo the color improvement unless it too is controlled and diminished. Thus it was that Ernst Abbe defined an apochromatic lens as one which not only makes three widely spaced wavelengths of light parfocal,
but also corrects spherical aberration and coma each at two widely separated wavelengths
[cf. J.G. Baker, "Planetary Telescopes,"
Applied Optics
2.2 (1963), pp. 111-129, especially p. 116; also cf. W. Smith,
Modern Optical Engineering
, 3rd ed. (McGraw-Hill, 2000), p. 411].
Abbe's compact definition contains the essence of what makes a good telescope objective for visual use. First there is the reduction of chromatic aberration down to a small tertiary spectrum. But then equally important is the notion that it is not enough for the ray fan plots or color curves of three wavelengths to intersect at one point, if they diverge wildly elsewhere. Thus, spherical aberration must be corrected not just for one wavelength as in the above lenses, but for
two widely spaced
wavelengths. This would fullful the "Gauss condition" by removing the "Gauss error," as the Germans say, reminding us that C.F. Gauss had solved the problem of simultaneously correcting spherical aberration for two wavelengths in an achromat. By correcting the Gauss error--that is, by correcting spherical aberration for two widely spaced wavelengths--we radically reduce spherical aberration for
all wavelengths.
One need only compare the spherochromatism in the two Czapski-inpired lenses shown at the beginning of the chapter to see that this is so. The Fraunhofer-style lens shows sizable spherochromatism, whereas the Gauss-style flint forward lens shows virtually none.
Abbe stipulated fullfilment of the Gauss condition in order to be sure that an apochromatic lens would reap the benefit of its improved color correction on-axis. And to ensure the off-axis imagery, he likewise insisted that coma be corrected for two widely spaced wavelengths, although chromatic variation of coma is far less problematic in telescope objectives than is spherochromatism. Generally if coma is corrected for the design wavelength (e- for us), than its chromatic variation can be neglected. But the same is not true of spherical aberration. Almost always as one moves toward faster and faster focal ratios in highly color-corrected telescope lenses, it is the mounting spherochromatism which sets the fundamental limit. Already in the above short-flint doublets we see how this is so. It is nearly impossible to make a really high quality short-flint doublet at a focal ratio faster than about f/20 from practical glasses because very fast lens surfaces are needed, which in turn usually leads to large spherochromatism. Aside from Capski's excellent 1886 lens which operated at f/14.2, Pauly's 1899 lens (like the Zeiss "A" lenses which followed) operated at about f/20. If their focal ratio were diminished, these short-flint doublets became "half-apochromats" (like the Zeiss "AS" objectives).
So, if we are to speak of an apochromat in the highest sense of the word, it should describe a very highly corrected lens. But in fact, none of today's telescope manufacturers can literally meet this goal. There are simply not enough degrees of freedom in a doublet or oil-spaced triplet. And the lens designs which could meet Abbe's criteria would likely be extremely difficult if not impossible to build.
Therefore, one has to scale back these criteria. In practice, one may combine the first, most basic condition of parfocality for three widely spaced wavelengths with a demand that spherical aberration and coma both be corrected for one wavelength each, and that spherochromatism be relatively small. This latter will form my criterion for a good apochromat and it is clearly the one which has been followed by most manufacturers over the years.
And in that case, the goal of apochromatic lens design in actual practice is to keep all colors from F- to C- concentrated as tightly as possible inside the Airy disk, that is to say, concentrated so that their total wavefront errors amount to no more than than 1/4 wavelength peak-to-valley (pv) from all sources (defocus, spherical aberration, coma, and astigmatism) combined, and such that the brightest wavelength (e-) is a factor of two or more better. Thus across the telescope's field of view, point sources (stars) should be imaged as points of a size no larger than the Airy disk for all colors from F- to C-. When it is possible to bring colors up to r- (0.707 micron) and down to g- (0.436 micron) within the Airy disk, so much the better. There are many times, however, when the color correction or spherochromatism does not allow such fine perfromance, but the lens will still function far better than an achromat in its color response. Even then, we shall speak as others do of an "apochromat."
To show what kind of performance has actually been expected over the years from apochromats--which in essentials conforms to my practical definition above--one may consult the following: M. Wolf, "Ueber ein Fernrohrobjektiv mit verbesserter Farbenkorrektion,"
Zeitschrift für Instrumentenkunde
19 (1899), pp. 1-4; R. Steinheil, "Farbenkorrektion und sphärische Aberration bei Fernrohrobjektiven,"
Zeitschrift für Instrumentenkunde
19 (1899), pp. 177-183, especially pp. 182; S. Czapski in A. Winkelmann,
Handbuch der Physik
, 2nd ed. (J.A. Barth, 1906), pp. 174-177; A. Sonnenfeld, "Der Königsche Apochromat B,"
Zeitschrift für Instrumentenkunde
61 (1941), pp. 261-264; R. Riekher,
Fernrohre und ihre Meister
, 2nd. ed. (Verlag Technik, 1990), pp. 214; H. Chrétien,
Calcul des combinaisons optiques
, 4th ed. (Paris, 1958), pp. 261-267; A. König & H. Köhler,
Die Fernrohre und Entfernungsmesser
, 3rd ed. (Springer Verlag, 1959), pp. 61-2 & 128ff.; J.G. Baker, "Planetary Telescopes,"
Applied Optics
2.2 (February, 1963), pp. 111-129; R. Christen, "An Apochromatic Triplet,"
Sky and Telescope
(October, 1981), pp. 376-380; and R. Christen, "Design and Construction of a Super Planetary Telescope,"
Telescope Making
28 (Fall, 1986), pp. 20-23.
How then does the SSKN8/KzFSN4 objective conform to our working definition of an apochromat? As was noted earlier, Figure 6 shows that the F-, e-, and C-lines nearly intersect at the 80% zone, virtually abolishing the secondary spectrum. Figure 7 shows that the blur spot for a star 1/2 degree off axis shows no discernable coma, but just a small amount of chromatic astigmatism. Yet, obviously the spherochromatism is large, thus partially undercutting the improvement in color correction. And this situation becomes even worse if we include the r- and g-lines for extended spectral coverage: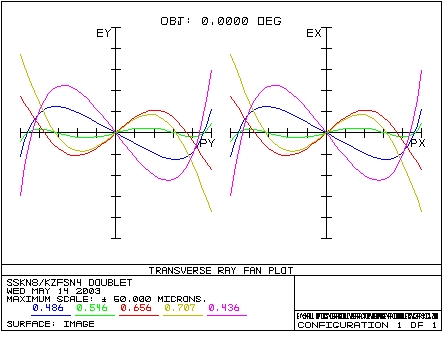 Figure 8: Axial Ray Fan Plots for 150mm f/20 SSKN8/KzFSN4
Doublet with Extended Spectral Coverage
If we next examine the chromatic focal shift diagram for the 82% zone, where the colors bunch most closely together in Figure 8, we see the classic 3rd order polynomial shape associated with an apochromat: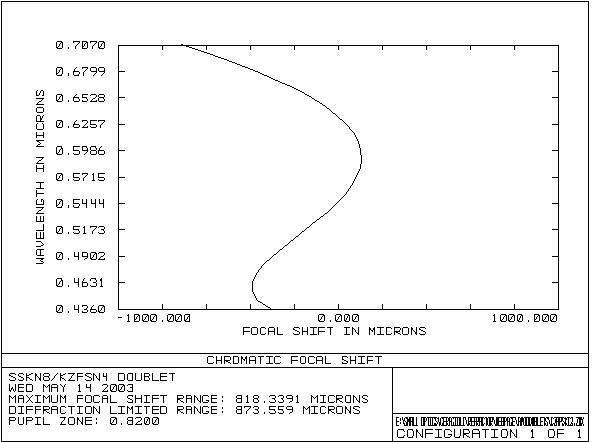 Figure 9: Chromatic Focal Shift for SSKN8/KzFSN4 Doublet at 82% Zone
A vertical slice near the -350micron focal shift position will cut the graph in three places. And the maximum focal shift range is now smaller than the diffraction limited range, showing that rays of wavelengths from 0.436 to 0.707 micron which enter the objective at the 82% entrance pupil zone come to a tolerable focus. Yet, the separation of three wavelengths in any vertical slice is not large. Thus, we may consider the lens an apochromat, but not a very good one. If we examine the chromatic focal shift diagram for the 40% zone, the poor quality becomes even more evident: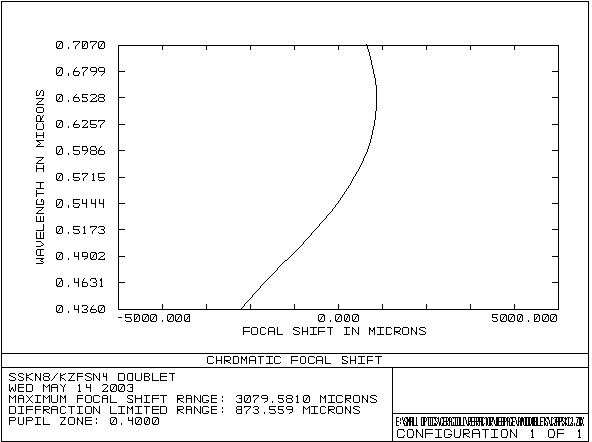 Figure 10: Chromatic Focal Shift for SSKN8/KzFSN4 Doublet at 40% Zone

At this pupil zone, the lens not only does not appear apochromatic, it does not even appear achromatic. And the difference between the maximum focal shift range and diffraction limited range is now quite large.

Until the advent of artificial fluorite and the fluor-crown glasses, it was not possible to make a practical doublet apochromat much better than this. Now, excellent small doublet apochromats are common. The glasses with which these ED elements are combined are not classic flints or even short flints, but other crown glasses. This is because in comparison to the dispersions of fluorite and fluor-crowns, any normal crown glass looks like a flint (i.e. has higher indices of refraction and a much larger dispersion).


Let us first examine an apochromat consisting of fluorite and K7, a standard crown glass. The design will consist of a Steinheil aplanat putting the "flinty" K7 first, and the "crowny" fluorite second. While in principle a standard Fraunhofer arrangement is also possible, it might not be wise since then the fluorite would be exposed to the outer air and subject to rapid changes in temperature during the night. Placed second, it will have some protection. The design is as follows:
| | | | | | | |
| --- | --- | --- | --- | --- | --- | --- |
| Surface | Type | Radius | Thickness | Glass | Diameter | Conic |
| Object | Standard | Infinity | Infinity | | 0 | 0 |
| Stop | | 866.911 | 10 | K7 | 160 | 0 |
| 2 | | 375.881 | 0.1 | | 160 | 0 |
| 3 | Standard | 369.549 | 15 | Fluorite | 160 | 0 |
| 4 | Standard | -10809 | 2231.86 | | 39.296 | 0 |
| 5 | Standard | Infinity | 0.03586 | | 39.280 | 0 |
| Image | | -820.682 | | | | 0 |
Table 5: 150mm f/15 Fluorite Doublet
.
The first thing to notice here is that the interior curves are now considerably weaker than in the SSKN8/KzFSN4 doublet of Table 4. This gives us hope that the spherochromatism will also be weaker. Moreover, the focal ratio has again come down to f/15. Next comes the ray fan plot: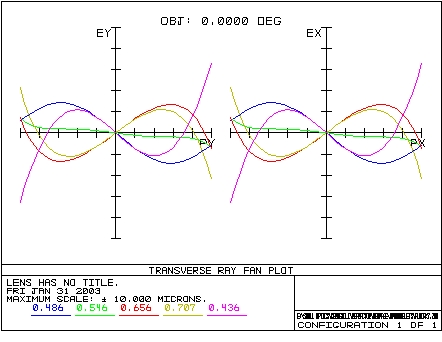 Figure 11: Axial Ray Fan Plot of 150mm f/15 Fluorite Doublet
Here the first thing to notice is the scale: +/-10 microns, which is five times smaller than the scale for the SSKN8/KzFSN4 doublet. This is a large improvement. Thus, spherochromatism is indeed much weaker now. The spots too look far better over the entire visual range: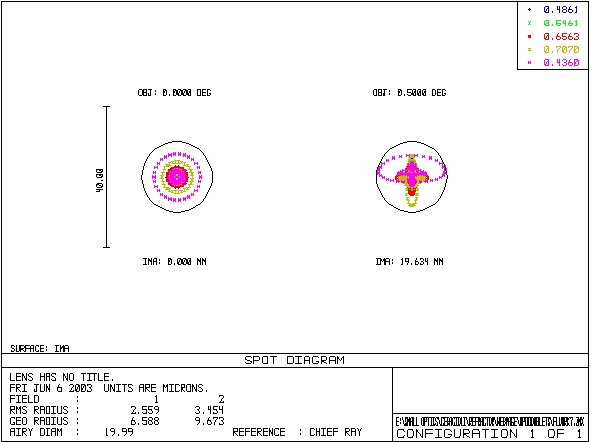 Figure 12: Spot Diagrams for 150mm f/15 Fluorite Doublet
The lens would produce a very sharp image with no false color and no off-axis coma. The results would be brilliant visually and photographically. In fact, the performance is so good at f/15 that one could easily scale down to f/10. Doing so would result in the following:

| | | | | | | |
| --- | --- | --- | --- | --- | --- | --- |
| Surface | Type | Radius | Thickness | Glass | Diameter | Conic |
| Object | Standard | Infinity | Infinity | | 0 | 0 |
| Stop | | 580.837 | 10 | K7 | 160 | 0 |
| 2 | | 252.718 | 0.1 | | 160 | 0 |
| 3 | Standard | 248.678 | 20 | Fluorite | 160 | 0 |
| 4 | Standard | -6824.3 | 1478.788 | | 26.213 | 0 |
| 5 | Standard | Infinity | 0.080390 | | 26.204 | 0 |
| Image | | -549.290 | | | | 0 |
Table 6: 150mm f/10 Fluorite Doublet