Chapter 3b: Survey of Achromats (Contact & Airspaced Doublets).



Cemented and oiled doublets have a number of advantages and disadvantages. The advantages are that first, the bonded surfaces reflect no light, increasing the light throughput of the lens by about 8-10%. Second, these surfaces do not need to be figured accurately, since any high or low zones on them are in effect smoothed away by the contacting cement or oil. Third, the lenses are robust and do not need a complicated cell to hold them: it is as if only one piece of glass existed.

The disadvantages are that first, special glasses or an aspheric surface must be used to make a coma-free objective. Second, cementing (which is more trouble-free than oiling) cannot be performed on lenses larger than about 75mm in diameter. And third, large cemented or oiled lenses are more subject to problems arising from mechanical warping or "flexure" than their uncemented cousins.

Because of these and other limitations, designers to have traditionally sought more "degrees of freedom" in the design of achromatic doublets. These they have obtained by splitting apart the crown from the flint so that both the size of the airgap between them and the radii of curvature on their interior surfaces could be made variables. When the edges of the crown and flint are allowed to touch, but the centers are not cemented or oiled, the objectives may be called "contact doublets." But if the size of the airgap becomes large and the lenses no longer touch anywhere, then we have "airspaced doublets."



A. Contact Doublets.


A variety of contact doublets have been manufactured for astronomy in the past. Many of the most famous examples date from the 19th century, coming from makers such as Fraunhofer & Utzschneider, Merz & Mahler, the Steinheils, Fitz, Alvan Clark & Sons (and their successors the Lundins), Brashear, the brothers Henry, Troughton & Simms, Cooke & Sons, Grubb, etc. The manufacture has continued until today, although on a reduced scale.

A large number of design forms are possible, although in practice only a few have been extensively manufactured. Most makers have preferred to put the crown forward, for reasons of weather-resistance, although the Steinheil firm pioneered a flint-in-front version, to be shown below. Of the crown-in-front forms, the following shapes have been used:




| | | |
| --- | --- | --- |
| 1. Cooke & Sons Lens | 2.. Littrow with Air Gap | 3. Fraunhofer Lens |
Figure 1: Three Crown-in-Front Contact Objectives
The first type was manufactured by Thomas Cooke & Sons of York, England, as described by H. Dennis Taylor in his1891 classic, The Adjustment and Testing of Telescope Objectives, 5th ed (Adam Hilger, 1983), p. 3 [cf. also G.R. Nankivell, "The 9.5 inch Cooke Objective of the Wanganui Observatory," Southern Stars 36.1-2 (1994), pp. 1-9]. It is characterized by a comparatively large internal airgap, a concave final surface, and pronounced coma. The second type of lens is a Littrow with a narrow airgap and an equiconvex crown. A slight modification of this form, discussed below, is what Alvan Clark & Sons used for their smaller lenses. It is characterized by smaller coma than the Cooke objective. And the third type is the best of the lot, the Fraunhofer doublet, characterized by complete coma correction. It is a form of lens called an "aplanat," meaning that it is simultaneously corrected for 3rd order spherical aberration and coma. It is named for Joseph von Fraunhofer, the famous 19th century German optical designer and physicist [cf. A. Danjon & A. Couder, Lunettes et Télescopes (Paris, 1935), p. 227-239, who correctly distinguish this aplanatic design from what Fraunhofer actually built. Yet in the English-speaking world, tradition calls this aplanat, the "Fraunhofer" lens. Cf. also H. King, History of the Telescope (Dover reprint, 1979), pp. 180-181; and C. Moser, "Ueber Fernrohrobjective," Zeitschrift für Instrumentenkunde 7.7 (1887), pp. 225-238; and 308-323, especially pp. 311-314].

What follows is an analysis of the three types. Since they have been used on larger objectives than the small cemented lenses of Chapter 3a, I will now assume a 150mm diameter f/15 arrangement in all cases. A star 1/2 degree off-axis will give an idea of the coma and astigmatism at the edge of a reasonable telescopic field. BK7 and F2 are the glasses used, since these are inexpensive, easily available, and quite stable. For the Cooke type of lens, we have the following prescription:

| | | | | | | |
| --- | --- | --- | --- | --- | --- | --- |
| Surface | Type | Radius | Thickness | Glass | Diameter | Conic |
| Object | Standard | Infinity | Infinity | | 0 | 0 |
| Stop | | 838.642 | 15 | BK7 | 160 | 0 |
| 2 | | -1257.963 | 0.2 | | 160 | 0 |
| 3 | Standard | -1180.388 | 10 | F2 | 160 | 0 |
| 4 | Standard | 10560 | 2228.824 | | 39.203 | 0 |
| 5 | Standard | Infinity | 0.06125 | | 39.200 | 0 |
| Image | | Infinity | | | | 0 |
Table 1: 150mm f/15 Cooke-Type Doublet
This is not an especially good design, because of the strong residual coma, illustrated below. Its main benefit for Cooke & Sons lay in the existence of two concave surfaces (3 and 4), which could be tested for sphericity by the knife-edge or eyepiece (artificial star) tests at the center of curvature. Nowadays, autocollimating an assembled lens and testing by interferometry, or using test plates on the convex surfaces and interferometry on the concave would be preferable. Thus, I give the design and following plots just to show a well-known type of lens made in the past. But of all the contact doublets, in my opinion only the Fraunhofer aplanat is still worth making today. The following are the ray fan plots and spot diagrams for the Cooke type of doublet.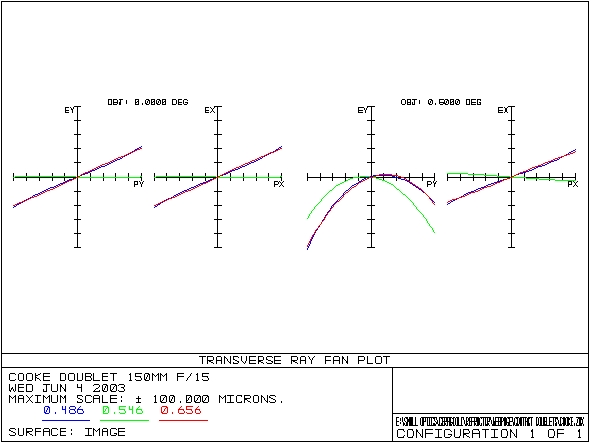 Figure 2: Ray Fan Plots for a 150mm f/15 Cooke Doublet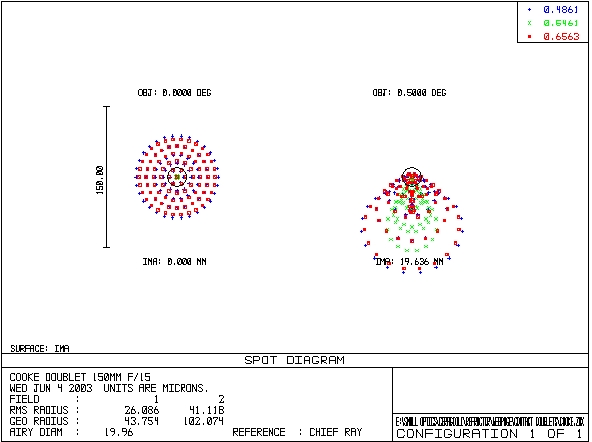 Figure 3: Spot Diagrams for a 150mm f/15 Cooke Doublet
The coma is obvious, although in practice it would not easily be seen at the low powers necessary to make visible a 1 degree diameter field. What is actually detrimental about the coma in most refractors is that it makes careful collimation necessary in order to obtain good, round images on-axis. Otherwise, high resolution and high contrast imagery will be lost at the field center.


A modified form of the Littrow lens was extensively used by Alvan Clark & Sons for their smaller achromats:

| | | | | | | |
| --- | --- | --- | --- | --- | --- | --- |
| Surface | Type | Radius | Thickness | Glass | Diameter | Conic |
| Object | Standard | Infinity | Infinity | | 0 | 0 |
| Stop | | 1006.642 | 15 | BK7 | 160 | 0 |
| 2 | | -1006.642 | 0.1 | | 160 | 0 |
| 3 | Standard | -996.675 | 10 | F2 | 160 | 0 |
| 4 | Standard | -15726 | 2232.706 | | 39.286 | 0 |
| 5 | Standard | Infinity | 0.25468 | | 39.274 | 0 |
| Image | | Infinity | | | | 0 |
Table 2: 150mm f/15 Clark-type Littrow Objective
The modification of the standard Littrow involves the third surface (r3). In a standard uncemented Littrow made of common crown and flint, r3 would be so close in radius to r2 that a strong ghost image would form at focus. This would occur because the uncoated internal surfaces would both reflect about 4-6% of the light incident on them, so that light initially incident on r3 would partially reflect back to r2, then partially re-reflect back to the focus. Nowadays, we could avoid the problem altogether by giving r2 and r3 anti-reflection coatings. But in the 19th century that was not possible. So the Clarks solved the problem by arbitrarily making r3 about 1% shorter in radius of curvature than r2, as I have done above. The effect of this is to make the ghost focus fall about 100mm from the main focus, thereby rendering it invisible in most cases at the main focus. Only a very bright star such as Sirius, or the planets Jupiter and Venus can still form a bright enough halo (i.e. defocused ghost) to be seen at the main focus. Of all the common contact designs (Cooke, Clark, Fraunhofer, and Steinheil), the Cooke suffers least from this problem, the Fraunhofer suffers much less than the Clark, while the Steinheil would suffer as much as the standard Littrow.
Why the Clarks chose to build modified Littrow lenses instead of the coma-free Fraunhofer may have been because the Littrow required only three cast-iron grinding tools for each size of objective, instead of the four required for the Fraunhofer. Moreover,
the Littrow has the weakest curves of any available design. That eases production problems because first, less glass must be ground off the initially flat glass blanks to make the required curves, which means less grinding grit, labor, and time are spent in that direction; and second, it is easier to produce smooth spherical surfaces when the lens curves are only moderately steep.
Another possible advantage was that they could avoid a common problem suffered by objectives in the hands of uniformed users: if r1 and r2 differ in radius, then an objective only works with r2 facing r3. But often when users clean their objectives, they pull the glass disks out of the cells and accidentally flip the crown around without realizing it--since r1 and r2 are both convex, so that the objective will still fit into its cell with either r1 or r2 facing r3. They then find that the image will no longer focus (due to severe spherical aberration), but do not know why. Any true Littrow-type contact doublet should be able to have its crown flipped in either orientation without a difference in performance.
But there are two drawbacks to the Clark-type of design. First, the arbitrary variation of r3 from its best value contributes 3rd order spherical aberration the image. That is a small matter in practice, since the residual can be corrected in the final polishing ("figuring") of the lenses. More important is the residual coma, which is not negligible.
The reason why zero coma is desirable in a refractor lens is because of astigmatism. It often occurs in the production of lenses--which are usually rather thin and flexible--that one arrives not at spherical surfaces, or even regular conics, but at slight toroids. In other words, one or more of the four surfaces may contribute slight astigmatism to the image due to its own slightly astigmatic shape. When this happens there is no easy cure,
if the objective must be collimated to remove coma from the image
. Coma will be gone, but not astigmatism--which is just as damaging. But if the objective is aplanatic, then you can rid the image of any slight astigmatism due to the toroidal shape of the lens surfaces by
tilting it
, because a tilt will not cause the appearance of coma. And, of course, all lenses used for visual telescopes have a slight, inherent astigmatism off-axis.
So in other words, you can use the inherent
off-axis
astigmatism of an aplanatic design (like the Fraunhofer) to compensate
on-axis
any slight fabrication errors which lead to
on-axis
astigmatism. You do this by tilting the objective slightly in order induce astigmatism
on-axis
which compensates and cancels the astigmatism due to fabrication errors, thus obtaining round images again despite the slightly toroidal lens surfaces. Exactly this tilting procedure is standard with the Schupmann Medial Telescope (see Chapter 6), where the problem is significant. But it cannot be done with a Clark or other non-aplanatic objective. Instead, with those designs the individual crown and flint elements must be rotated with respect to one another in the hope that both lenses have slightly toroidal surfaces which will compensate one another in a particular rotational angle.
If that angle can be found
, then the two lenses will need to have reference marks placed on their sides, so that they are always reassembled in the same rotational angle with respect to one another.
Next, I give the ray fan plots and spot diagrams for the above Clark type of lens: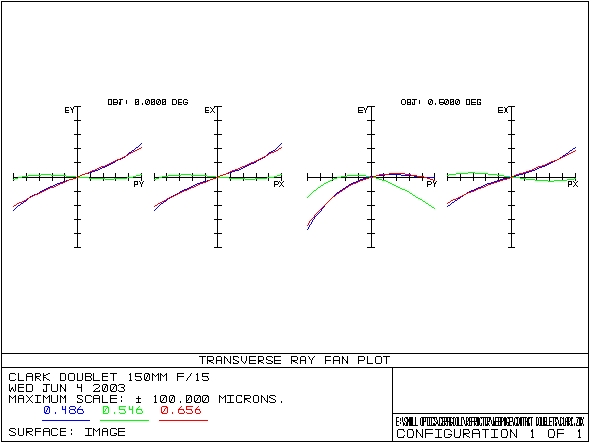 Figure 4: Ray Fan Plots for 150mm f/15 Clark-Type Doublet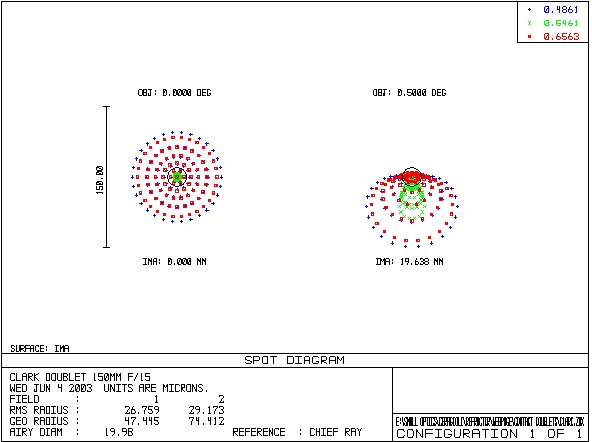 Figure 5: Spot Diagrams for 150mm f/15 Clark-Type Doublet
The coma here is less severe than in the Cooke design. Examination of the axial ray fan plots will show the increased spherical aberration, which the spot diagram shows is nevertheless still small.
A prescription for an equivalent Fraunhofer aplanat will be as follows:
| | | | | | | |
| --- | --- | --- | --- | --- | --- | --- |
| Surface | Type | Radius | Thickness | Glass | Diameter | Conic |
| Object | Standard | Infinity | Infinity | | 0 | 0 |
| Stop | | 1368.492 | 15 | BK7 | 160 | 0 |
| 2 | | -797.877 | 0.1 | | 160 | 0 |
| 3 | Standard | -808.042 | 10 | F2 | 160 | 0 |
| 4 | Standard | -3318 | 2237.78 | | 39.337 | 0 |
| 5 | Standard | Infinity | 0.01955 | | 39.348 | 0 |
| Image | | -833.5997 | | | | 0 |
Table 3: 150mm f/15 Fraunhofer Aplanat
As can be seen from the radius of curvature of the image surface, the best images occur on a slightly curved field (-833.6mm). The magnitude of the curvature will cause no problem for visual observing and stars will look quite sharp up to the edge of the field. Next come the ray fan plots and spot diagrams: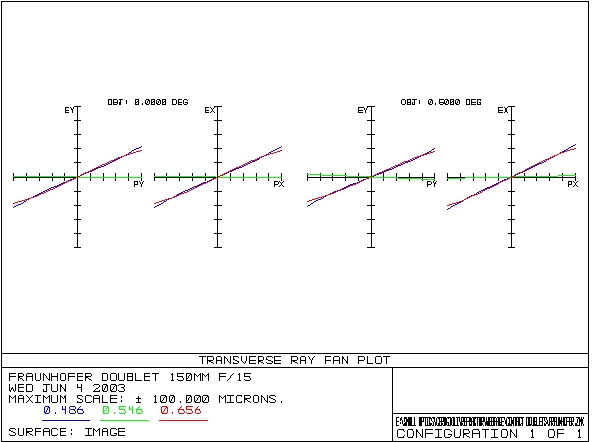 Figure 6: Ray Fan Plots for 150mm f/15 Fraunhofer Aplanat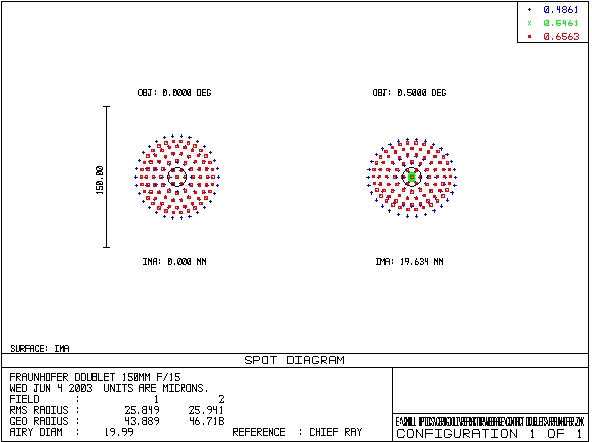 Figure 7: Spot Diagrams for 150mm f/15 Fraunhofer Aplanat
The excellence of the monochromatic correction needs no comment. Small off-axis astigmatism is readily apparent in the right spot diagram.

From the 1860s, the Steinheils pioneered putting the flint element first. The resulting shape for their objective is better adapted to resisting flexure of the flint element in large sizes than are the crown-in-front forms [cf. L. Bell,
The Telescope
(Dover reprint, 1981), p. 83]. On the other hand, so long as the latter designs retain an airspace, both the front and rear surfaces of each element will flex
together
and the net result will in most cases be small to the image. So the Steinheil design is not necessary for a standard achromat. Nevertheless, I give the layout, prescription, and analyses for reference:

4. Steinheil Lens
| | | | | | | |
| --- | --- | --- | --- | --- | --- | --- |
| Surface | Type | Radius | Thickness | Glass | Diameter | Conic |
| Object | Standard | Infinity | Infinity | | 0 | 0 |
| Stop | | 980.539 | 10 | F2 | 160 | 0 |
| 2 | | 508.979 | 0.2 | | 160 | 0 |
| 3 | Standard | 506.676 | 15 | BK7 | 160 | 0 |
| 4 | Standard | -54540 | 2231.78 | | 39.341 | 0 |
| 5 | Standard | Infinity | 0.01568 | | 39.352 | 0 |
| Image | | -832.852 | | | | 0 |
Table 4: 150mm f/15 Steinheil Aplanat
Notice how strong the internal curves are, and that r2 and r3 are nearly identical, which would generate a strong ghost image. A design change like that of the Clarks' to the Littrow lens is not as easily possible, because the residual 3rd order spherical aberration will be worse with the Steinheil lens, since its curves are so much stronger. Keeping the original curves and using anti-reflection coatings instead would probably be preferable.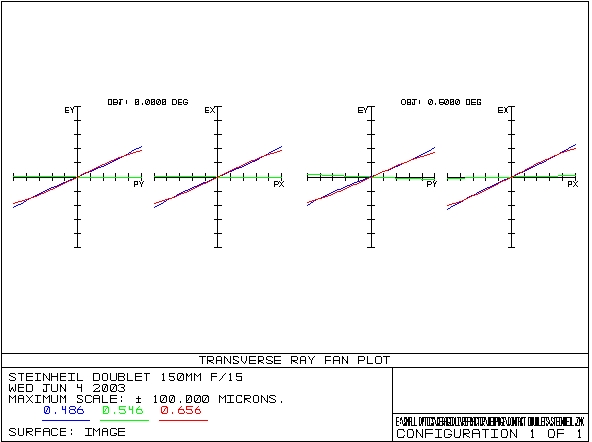 Figure 8: Ray Fan Plots for 150mm f/15 Steinheil Aplanat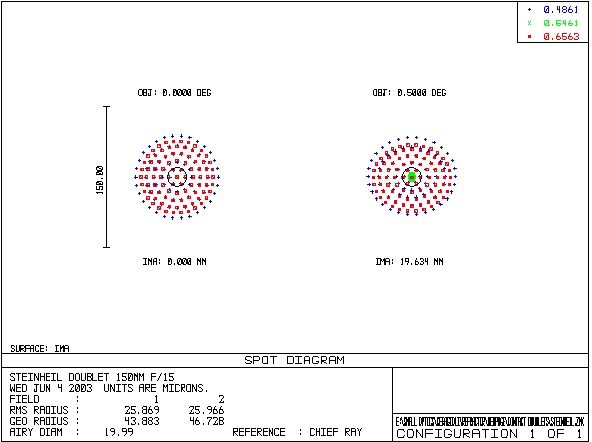 Figure 9: Spot Diagrams for 150mm f/15 Steinheil Aplanat
B. Airspaced Doublets
There are three types of airspaced doublets which have been used in astronomy: the Clark, the Baker, and the Gauss. They are all characterized by reduced variation of spherical aberration with wavelength, that is to say, reduced spherochromatism [cf. Danjon & Couder, p. 239-244]. The first of these was simply a modification of the Clarks' small Littrow-type lenses. It was designed to meet the needs of large observatory telescopes and consisted of an equiconvex crown separated by a large airgap from the usual meniscus flint. The airgap could amount to as much as 150-200mm in the 36" Lick and 40" Yerkes refractors. Such a large separation of the lenses was needed for two reasons: thermal equilibration and cleaning.
Refractor objectives, no less than reflector mirrors, cannot perform their best until they settle down to the ambient air temperature at night. Until equilibration occurs an achromat typically shows a large amount of undercorrected spherical aberration [cf. Taylor, p. 37-38]. And the thicker the lens, the worse the problem, equilibration occurring more slowly. The Clarks were aware of this. The high cost of optical glass, as well as the difficulties which glass makers had in producing large homogeneous disks, probably helped them in this regard because they had to become adept at making thin lenses. Aspect ratios (thickness/diameter) of 1:20 were used in their largest lenses, whereas today opticians prefer a ratio of about 1:10 for lenses and 1:6 for mirror blanks.
So, thin glass helped them in part to beat the problem of thermal equilibration. But the Clarks also realized that increasing the airflow between the elements of a large lens would further hasten the cool down. In addition, it was not desirable to unmount a huge lens and disassemble it for cleaning very often. So an airgap wide enough to allow one's hand and arm to pass freely between the crown and flint for cleaning r2 and r3, and wide enough to facilitate airflow through vents around the outside of the lens cell would serve two useful functions at once. Thus they separated crown from flint and formulated a new design for large lenses [cf. Bell, p. 83-84; and J.A. Church, "Optical Designs of Some Famous Refractors,"
Sky and Telescope
(March, 1982), pp. 302-8].
The following is a layout approximating a larger Clark-type lens: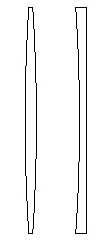 6. Larger Clark-Type Lens
One easily sees how thin and fragile the elements look, and how large the airspace is. Ghosting is insignificant with such a large airspace, and so r3 can be allowed to vary in order to optimize the design. The ray fan plot looks quite similar to the smaller Clark-type lenses, so I will omit it. But the spot diagram is worth showing: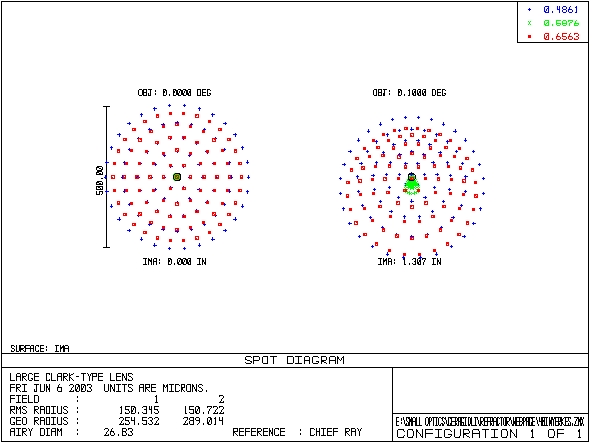 Figure 10: Spot Diagrams for a Large Clark-Type Lens
The Airy disk is barely visible as a black dot at the center of the color blurs. Obviously, such a lens has tremendously bad secondary spectrum. Yet one thing saves it from uselessness: atmospheric seeing never allows one to use enough magnification to clearly see the Airy disk. Ordinarily one is restricted to lower powers, so that the full extent of the color error does not ruin the image. Visual observers who use such instruments seem to find the secondary spectrum annoying, but not prohibitive. Another feature to notice in the spot diagram is that the blue blur is separated slightly from the red in the off-axis image. This is a sign of lateral color, caused by the large airgap. It is theoretically interesting to see, but in practice an observer is unlikely to notice it.
A final feature worth mentioning is the matter of lens support. As ATMs know well, mirrors have to be supported carefully if they are to avoid mechanical flexure and work well. And the larger the mirror, the more complex the support system must be. It is interesting, therefore, to note that the monster refractors of the 19th century were relatively insensitive to flexure problems. For example, it seems that the 36" Lick refractor is to this day only supported on three pieces of card around its edges. Such a support system would fail miserably in an equivalent reflector, rendering it totally useless. But in an airspaced refractor even of enormous proportions that little support is apparently not unsatisfactory--because the surfaces of the lenses flex in a nearly compensatory manner.
On the other hand, oil-spaced lenses must be supported more carefully. If the final surface of the bottom lens becomes slightly warped under flexure, the front face of the same lens element cannot compensate it. Even though that front face will also flex in a compensatory fashion, the oil interface connecting it to the lens immediately preceding has the effect of nullifying its figure, and therefore of nullifying what that warped figure would do to compensate the warped figure of the final surface. So large oil-spaced objectives must be carefully supported on o-rings of compliant foam, for example, in order to avoid introducing any flexure in the final surface.
For smaller achromatic lenses where cleaning is not a problem, the airspaced Baker lens is probably the best design [cf. G.F. Dimitroff & J.G. Baker,
Telescopes and Accessories
, (Blakiston, 1945), p. 29; and J.G. Baker, "Planetary Telescopes,"
Applied Optics
2.2 (1963), pp. 111-129, especially 124-125]. It departs from the Littrow equiconvex arrangement to achieve coma correction, like the Fraunhofer, and uses an airspace to correct spherical aberration. Ghosting from the r3/r2 reflection is unobservable, even without anti-reflection coatings. What follows is the layout of a 150mm f/15 Baker objective:

7. Baker Aplanat
The prescription for this lens is as follows:
| | | | | | | |
| --- | --- | --- | --- | --- | --- | --- |
| Surface | Type | Radius | Thickness | Glass | Diameter | Conic |
| Object | Standard | Infinity | Infinity | | 0 | 0 |
| Stop | | 1303.634 | 15 | BK7 | 160 | 0 |
| 2 | | -808.023 | 7.517 | | 160 | 0 |
| 3 | Standard | -808.023 | 10 | F2 | 160 | 0 |
| 4 | Standard | -3613.418 | 2219.815 | | 39.339 | 0 |
| 5 | Standard | Infinity | 0.02789 | | 39.350 | 0 |
| Image | | -803.192 | | | | 0 |
Table 5: 150mm f/15 Baker Aplanat
The ray fan plots and spot diagrams look nearly identical to those of the Fraunhofer objective shown previously. Therefore, I will omit them.
As was mentioned above at the beginning of Section B, the widely airspaced Clark and Baker objectives show smaller spherochromatism than the cemented or contact doublets. The reason for this improvement is discussed by Danjon & Couder (p. 242). For the purposes of this web site, however, it is enough if the reader makes a mental note of the fact. Though it plays no important role in the design of achromats for telescope objectives, several of the apochromats to be shown in Chapters 4a and 4b will deliberately introduce a large airgap in order to obtain significant improvements in spherochromatic correction.
Last comes the Gauss objective, invented by the 19th century German mathematician, C.F. Gauss. It too has as its goal the reduction of spherochromatism (which the Germans call "Gauss error"), although it uses a different means to that end. J. le Rond d'Alembert, the 18th century French scientist and mathematician, first proposed that spherical aberration should be corrected for two wavelengths, in rather the same way that one makes two wavelengths parfocal in order to correct chromatic aberration [cf. Danjon & Couder, p. 242; King, p. 157]. Gauss later succeeded in devising a doublet achromat which would do just that [cf. C.F. Gauss, "Über die achromatischen Doppelobjective," in
Werke
, vol. 5 (Göttingen, 1867), pp. 504-510; also cf. Bell, p. 82; S. Czapski & O. Eppenstein,
Grundzüge der Theorie der optischen Instrumente nach Abbe
, 3rd ed. (Verlag J.A. Barth, 1924), p. 566; and H. Krüss, "Die Farben-Correction der Fernrohr-Objective von Gauss und von Fraunhofer,"
Zeitschrift für Instrumentenkunde
8 (1888), pp. 7-13, 53-63, & 83-95, especially p. 10].
Gauss's objective is interesting in concept and several examples were successfully built by the Clarks, notably a 9.5 inch diameter glass for Princeton University in 1877 [cf. C.A. Young, "The Color Correction of certain Achromatic Object Glasses,"
American Journal of Science
, 3rd series, vol. 19 (1880), pp. 454-456; and D.J. Warner and R.B. Ariail,
Alvan Clark and Sons, Artists in Optics
, 2nd ed. (Willmann-Bell, 1995), pp. 27-8 & 143]. And a decade later in 1886, the optician Carl Bamberg in Berlin constructed several apochromatic Gauss objectives [cf. Chapter 4a below; and Krüss, p. 60].
Nevertheless, the objective is a difficult specimen of practical design because it entails severe curves and great difficulty in centration and mounting. Moreover, in practice, the achromatic version at least presents no decisive improvement over a Fraunhofer doublet [cf. W. Smith,
Modern Optical Engineering
, 3rd ed. (McGraw-Hill, 2000), p. 405], although in the late 19th century when work was being done with visual spectrometers on telescopes, it probably seemed desirable to reduce spherochromatism to zero, in order to obtain the sharpest images of spectral lines. In the long run, however, the most fruitful outcome of the Gauss telescope objective was that it gave Alvan G. Clark the idea in 1888 for an new type of photographic lens, the double-Gauss, which forms the basis of many fast camera lenses today [cf. R. Kingslake,
A History of the Photographic Lens
(Academic Press, 1989), pp.117-118; W. Smith, p. 456 & 459].
The following is a layout for a 150mm f/15 Gauss telescope lens:
.

8. Gauss Lens
Technically, this should be classed as a "contact doublet" since the airgap at the center is very small. But the edge separation is so much larger than in any other contact doublet that I have appended it to the airspaced doublets. The prescription is as follows:
| | | | | | | |
| --- | --- | --- | --- | --- | --- | --- |
| Surface | Type | Radius | Thickness | Glass | Diameter | Conic |
| Object | Standard | Infinity | Infinity | | 0 | 0 |
| Stop | | 351.603 | 15 | BK7 | 160 | 0 |
| 2 | | 1343.691 | 0.5 | | 160 | 0 |
| 3 | Standard | 399.240 | 10 | F2 | 160 | 0 |
| 4 | Standard | 276.063 | 2178.599 | | 160 | 0 |
| 5 | Standard | Infinity | -.051 | | 39.427 | 0 |
| Image | | Infinity | | | 39.439 | 0 |

Table 6: A 150mm f/15 Gauss Objective


The curves on this lens are obviously strong. But the spherochromatism is essentially zero from C- to F-: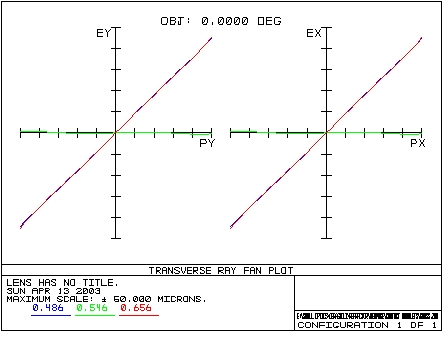 Figure 13: Ray Fan Plot for a 150mm f/15 Gauss Objective.
On the other hand, coma is ssignificant, giving the lens a narrow field of fine definition and necessitating careful collimation and control of astigmatism: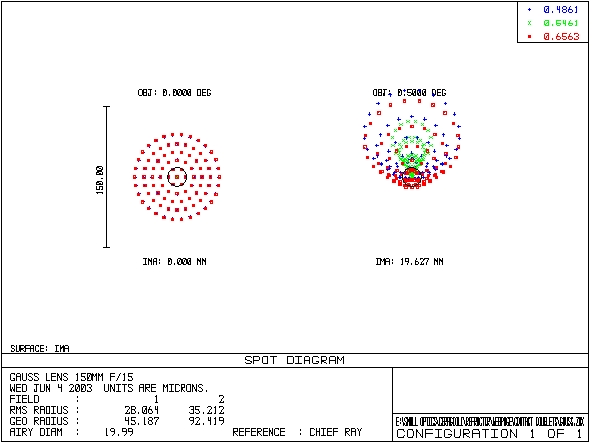 Figure 14: Spot Diagrams for a 150mm f/15 Gauss Objective
Because of the increased coma the lens provides no real improvement over a Baker or Fraunhofer objective for an ordinary visual telescope.
A flint-forward version of the Gauss is also possible. It was this type, as we shall see in Chapter 4a, which Bamberg built as an apochromat in the 1880s. The curves on this type will tend to be weaker than those of the crown-forward version. And this useful trait can be enhanced by selecting high index glasses. The weakening of the curves will lead to somewhat better performance and easier manufacturing than the crown-forward version:

9. Flint-Forward Gauss Lens
The prescription comes next:

| | | | | | | |
| --- | --- | --- | --- | --- | --- | --- |
| Surface | Type | Radius | Thickness | Glass | Diameter | Conic |
| Object | Standard | Infinity | Infinity | | 0 | 0 |
| Stop | | -500.081 | 10 | SF4 | 160 | 0 |
| 2 | | -710.809 | 0.5 | | 160 | 0 |
| 3 | Standard | 7009.238 | 15 | SK2 | 160 | 0 |
| 4 | Standard | -772.425 | 2275.74 | | 160 | 0 |
| 5 | Standard | Infinity | -0.008 | | 39.275 | 0 |
| Image | | Infinity | | | 39.275 | 0 |
Table 7: A 150mm f/15 Flint-Forward Gauss Objective
Clearly the curves have been weakened significantly. Still, since the axial ray fan plots were already nearly perfect for the crown-in-front version, we cannot expect improvement in that direction. Therefore, I omit them. Instead, our design choices have led to a slight reduction in the coma and a change of its sign. This is shown by the spot diagrams, where one can also see a slight reduction in secondary spectrum on axis: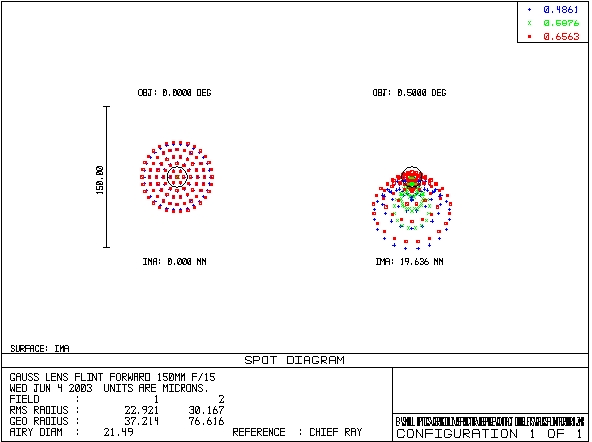 Figure 15: Spot Diagrams for 150mm f/15 Flint-Forward Gauss Objective
With the Gauss doublet we conclude our tour of achromatic objectives. Next we turn to the apochromats, where we will often see similar design forms.