The three colored lines represent the performance of the same three colors of light which we used in Chapter 2: the green e-line (0.546 micron), the blue F-line (0.486 micron), and the red C-line (0.656 micron). We can see immediately that none of the three colors is focusing perfectly, although green is much better than red and blue. The global tilt of the latter colors clearly implies defocus. That is the normal state of an achromat corrected for visual performance: both red and blue focus together, but longer than green.
Now before condemning an achromat out-of-hand for this poor performance, let us examine the ray fan plot of a 75mm f/7 singlet lens made of just BK7 crown glass: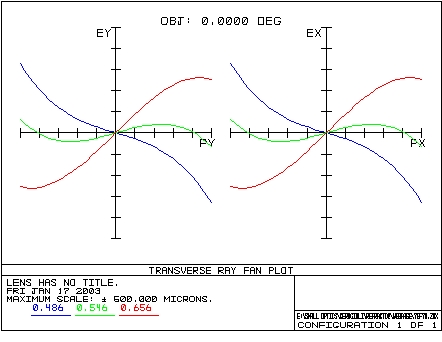 Figure 3: Axial Ray Fan Plots for 75mm f/7 Singlet Lens
Notice the scale of Figure 3 (+/- 500 microns) versus Figure 2 (+/- 50 microns): the spread of color in the achromat is over 20 times less than the spread in an equivalent singlet. This is a vast improvement. Notice also that the achromat is pretty well corrected for spherical aberration in green light, whereas the singlet lens has enormous spherical. So the achromat provides a huge improvement, despite its residual color error.
Another way to view this problem is by means of a "Chromatic Focal Shift Diagram." This graphs the relationship between individual wavelengths of light (along the ordinate) and where they focus in relation to a lens's design color (the e-line for us, along the abscissa). The singlet lens gives the following chromatic focal shift diagram between the C-line and the F-line: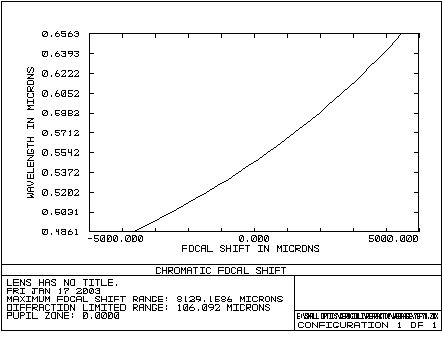 Figure 4: Chromatic Focal Shift for a 75mm f/7 Singlet Lens
We can see that for this non-achromatized lens, we must shift our eyepiece position about 8mm (8000 microns) along the optical axis to move between the focus for blue and that for red. That is a huge amount of refocusing and such a lens would in no way give clear images in the eyepiece, but rather a kaleidoscope of colors and vague ill-defined shapes. The corresponding focal shift diagram for our achromatic doublet is as follows: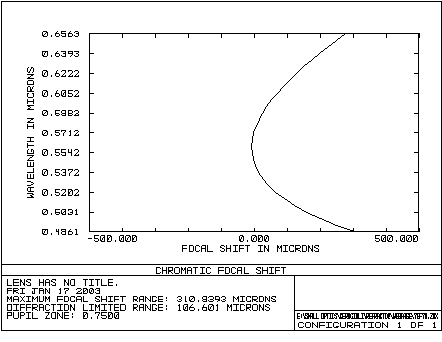 Figure 5: Chromatic Focal Shift for a 75mm f/7 Achromatic Doublet
The total focal shift from blue to green to red is now approximately 0.3mm (instead of 8mm), a 96% decrease. Notice also that the shape of the graph in Figure 4 differs fundamentally from that in Figure 5. The former was a gently curving monotonic line of positive slope; while the latter bends back on itself to form a parabola. This means that in effect an achromat takes the visual spectrum and folds it back on itself, so that instead of one color at a time coming to focus as we move along the optical axis, we get two colors in focus. That can be seen in Figure 5, if we take a vertical slice through the parabola at some focus position between 0 and +300 microns. In any such position (say at +100 microns), we can read along the ordinate of the graph and find two wavelengths (e.g. approximately 0.6100 and 0.5100 for +100 microns focus position) which both come to a focus at that distance. Contrast this with Figure 4, in which no matter where you slice the graph, you get only one wavelength of light focusing there. It is just this difference which defines an achromat.
Notice that the vertex of the curve in Figure 5 falls close to the design wavelength (0.546 micron), which is intentional because this wavelength of light (the green e-line) lies close to where the human eye has its most sensitive color vision. In order for a white star to appear white in a lens system, there must be enough light from around the brightest portion of the spectrum compressed into the Airy disk (or some small unresolvable spot at low power) for the brain to interpret the mixture of wavelengths as being of no distinct color--that is, "white." If, on the other hand, the vertex of the parabola coincided with red or blue then all the rays to which the eye is most sensitive (around the yellow-green) would be shifted to one or the other arm of the parabola, where the eye would still try to focus. But then a great range of those rays would not fit within the Airy disk and even at low power a white star might not appear white, but yellowish.
Notice further in Figures 4 and 5 the captions reading "Diffraction Limited Range." This is the distance along the abscissa of the graph (and along the optical axis in the telescope) within whose left and right bounds wavelengths are capable of simultaneously forming spots no larger in size than the Airy disk. In other words, if we restrict ourselves for the moment to Figure 5 and take a vertical slice through the graph at, for example, a focal shift position of 0.000 microns (left bound) and another at +106.6 microns (right bound), then wavelengths of light within the range from about 0.6100 to about 0.5100 microns are all capable of forming a good focus at one time. These colors show focus errors which cause their wavefronts to depart from perfection by no more than the well-known Rayleigh criterion 1/4 wavelength peak-to-valley. Thus, an image formed by these wavelengths will comprise a spot whose size is as small as it theoretically can be, limited only by the diffraction of light coming through the circular entrance pupil and not by aberrations. It is also possible to take slices 106.6 microns in width at other focal positions and ascertain what range of wavelengths will be in focus there. But in practice at the telescope, the eye will naturally select the focal shift position of 0.000 since it coincides with the brightest portion of the visual spectrum.
One can also see in Figure 5 that the maximum focal shift from blue to green to red is 310 microns for the achromat, versus 8129 microns for the singlet (Figure 4). While in either lens only wavelengths within any bounded focal shift range of 106.6 microns in width can come to a focus simultaneously. Thus again one can easily see how enormous an improvement is made by an achromat.
Indeed, although recent improvements have led to a large market for apochromatic lenses of near perfect color correction, I would say--having designed and built a dozen achromats and apochromats, as well as many reflectors--that achromats can still provide excellent service and have much in their favor. At low telescopic power (up to about 4x per cm of aperture) in a properly made amateur-sized achromat it is frequently hard to see any false color--just a halo of purplish light around bright white objects. And at medium high powers (5-10x per cm of aperture), bright white stars still look white though obviously surrounded by a bluish halo of unfocused light. The effect is not terribly disturbing except to a perfectionist. Only at high powers (over 15x per cm of aperture) does that bright white star turn yellowish in appearance, surrounded by a conspicuous blue halo. Still, at reaonable powers of about 12x per cm a well-made achromat shows the moon and planets vividly and in high contrast without drastic color error. And if one uses colored filters to enhance planetary markings, then all objection to the achromat's color residual vanishes. So, while an achromat is not the ideal high resolution instrument, it frequently out performs an equal sized reflector and (in my opinion) can hold its own against an apochromat in respect to detail shown--if the observer patiently observes.
But to return to Figure 2 and the cemented achromat of type A, the following is the spot diagram for this objective: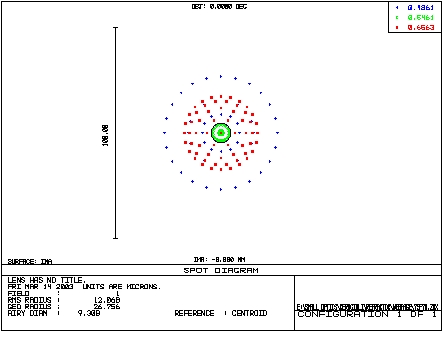 Figure 6: Spot Diagram for a 75mm f/7 Type-A Achromat


One can see that while green just fits inside the Airy disk, red and blue do not. Their combined blur is several times larger. But because the human eye's sensitivity to light varies so much by color [for details cf. H. Rutten and M. van Venrooij,
Telescope Optics, Evaluation and Design
(Willmann-Bell, 1988), pp. 57-58; or W. Smith,
Modern Optical Engineering
, 3rd ed. (McGraw-Hill, 2000), p. 135], the red and blue wavelengths appear far fainter than those around yellow-green where the eye's peak sensitivity lies. And so long as a broad range of the brightest wavelengths comes to a true focus or is concentrated into a spot whose size the eye cannot resolve (because of low magnification), the brain will sense this as "white." While if the star is magnified in the telescope enough to reveal the Airy disk itself and the blur of unfocused colors, then the eye will still see a bright star-like point, but colored yellow. The unfocused wavelengths will look much dimmer and appear bluish in color. In the case of stars 6th magnitude and fainter, a 150 or 200mm achromat will generally not show the bluish halo at all because of the its faintness.
Now, it is possible for an achromat to shrink the above color blur so that it will fit more closely into the Airy disk. This may be done by increasing the focal ratio. If we rescale our 75mm f/7 objective to f/15, the following spot diagram results: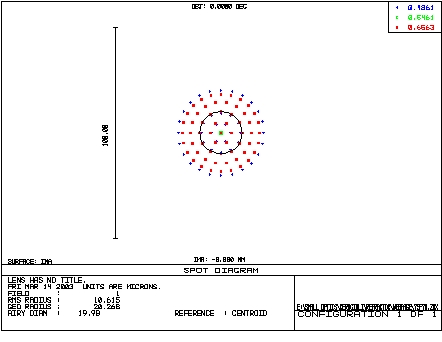 Figure 7: Spot Diagram for a 75mm f/15 Achromat
This objective, small as it is, has good color correction. The combined red/blue blur is not much larger than the Airy disk and approximates the correction achieved by some larger old fashioned apochromats. Unfortunately, however, even at f/15 once we increase the size of our small achromat to a more satisfactory 150 or 200mm, the mismatch between the Airy disk and the color blur increases again, leading to poor color rendition at high powers. To illustrate this, compare the following spot diagram for a 200mm f/15 achromat: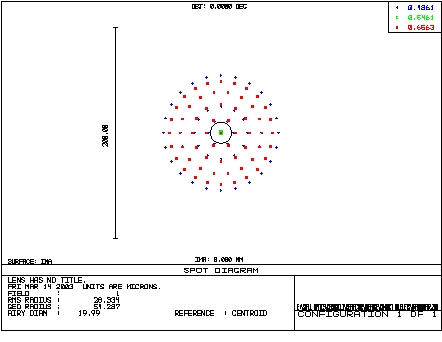 Figure 8: Spot Diagram for a 200mm f/15 Achromat
Still, we should not exaggerate the problem. A 200mm f/15 achromat of good construction can give excellent views of the moon, planets and double stars. It is just that their colors will be somewhat incorrect, and a blue halo of light will be seen around brighter sources at higher powers. Contrast will be somewhat lessened by the smear of unfocused light over the object. Nevertheless, much fine detail on Jupiter, Mars, and Saturn is visible with concentrated attention.
F/15 is the traditional focal ratio for high-resolution achromats, despite the awkward lengths this gives to even relatively small objectives. Only in the case of low-power systems, such as telescopic finders and binoculars, does a shorter focal ratio prevail. But f/15 is not really adequate for high-power objectives larger than approximately 100mm in aperture, if one desires good color correction. Much higher focal ratios would be necessary for any lens over 150mm. But then the vast lengths of the tubes would impose engineering and housing problems. Even at f/15 portability is almost out of the question for an achromat over 150mm diameter unless one folds the light path, and it is probably out of the question for objectives over 300mm, even if the most compact folding is done. So here lie the fundamental limits constraining achromats. On the other hand, all well-constructed refractors exhibit fewer problems with thermal currents inside their tubes ("tube seeing") than reflectors do, especially if the latter are used without optical windows to seal the upper ends of their tubes.
Returning again to the ray fan plots of Figure 2, notice that not only do the graphs for red and blue show a general tilt (and therefore defocus), but also that the spherical aberration residual for red is different from that of blue. This difference is, of course, spherochomatism, an aberration discussed in Chapter 2. Blue shows overcorrection, and red shows undercorrection. That is typical for all types of refractors.
Now, by choosing the lens powers correctly the designer can independently vary the amount of defocus which both red and blue show, and thus precisely where the two colors cross in the ray fan plot. The present design was chosen to cause that crossing to occur at around the 85% zone. In other words, red and blue rays come to a common focus only if they enter the entrance pupil at a radial distance of 85% from its center to its edge. Otherwise, blue rays focus somewhat shorter than red if they enter from 0-85%, and somewhat longer if they enter from 85-100%. Only at about 85% do red and blue focus at exactly the same position. The advantage of choosing the present lens powers is that we cause the blue color blur to become equal in size to the red, thereby balancing the defocus of the C-line against that of the F-line. This is what is meant by a C-F correction, the standard employed for all the achromats which I give on this web site.
In the 19th century, however, a different correction prevailed. This balanced not the C-line against the F-, but the Fraunhofer B-line (at about 0.687 micron) against F-. The effect was to bring the C-line to a shorter focus than the F-, and therefore to favor the redward side of the spectrum at the expense of the blue. Making C- focus shorter than F- is called "overcorrecting" for color, since in an unachromatized lens red naturally focuses
longward
of blue (see Figure 20 of Chapter 2), the latter being defined as "undercorrection" for color.
One may see some typical chromatic focal shift diagrams (also called "achromatization curves" or simply "color curves") from the greatest 19th century makers on p. 91 of L. Bell's 1922 book,
The Telescope
(Dover reprint, 1981). Both Bell (pp. 90-92) and H. Dennis Taylor, in his highly useful 1891 book,
The Adjustment and Testing of Telescope Objectives
[5th ed. (Adam Hilger, 1983)], pp. 12-17 discuss the intricasies of color correction in relation to the eye and eyepiece, suggesting that because the unachromatized Huygenian eyepieces (commonly used before the First World War) and the unachromatized human eye are both undercorrected for color, makers of achromatic objectives in the 19th century tended to prefer the over compensation of the B-F correction as a counterbalance.
Even more authoritative is the discussion in A. Danjon & A. Couder's important work,
Lunettes et Télescopes
(Paris, 1935), pp. 107-114. The latter are principally concerned with large observatory refractors, where problems of achromatism are much more severe than in amateur-sized instruments. Danjon and Couder recommend (pp. 111-113) that for large objectives the shortest focus should fall at about 0.555 micron, if the observer's aim is to see the faintest stars possible. But if planetary observation is more important, then a minimum focus around 0.585 micron is preferable, since the spectra of the planets are relatively rich in the light of longer wavelengths. On the other hand, if one's taste runs to disguising the most obvious color error at higher powers, a minimum around 0.575 micron will give a diffraction spot that is, they say, pale orange (instead of the yellowish color produced by the C-F correction) surrounded by a small halo that is nearly the same color, and then the usual large blue halo.
As can be seen by looking back at Figure 5, the C-F correction of an achromat leads to a minimum focus around 0.550 microns, conforming to Danjon and Couder's idea of a telescope for deep sky observing. The B-F correction preferred in the 19th century leads to the following color curve (extending now from B- to F-) and spot diagram (in which I show only C-, e-, and F- to keep comparisons meaningful):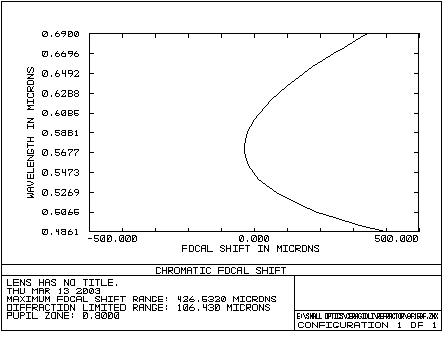 Figure 9: Color Curve for B-F Achromatization in a 75mm f/7 Type-A Doublet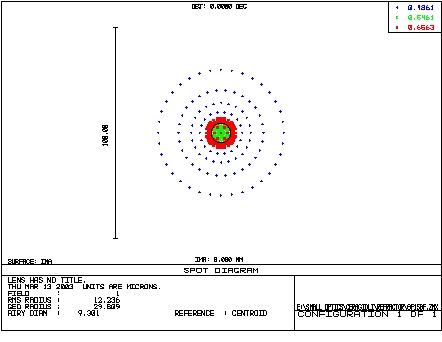 Figure 10: Axial Spot Diagram for B-F Achromatization of 75mm f/7 Type-A Doublet
A close inspection of Figure 9 will show that the minimum focus falls around 0.570 micron, conforming to Danjon and Couder's recommendation for a lens showing the least obvious color error at high magnification. The upper and lower values of the ordinate show that the B- and F-lines now focus together. Figure 10 shows how much the spot for C- has now shrunk relative to F-, making plain how wide a latitude lens makers have for arriving at an acceptable color correction in an achromat.

By reoptimizing further, we can place the minimum focus around 0.585 micron, the correction recommended by Danjon and Couder for a planetary telescope: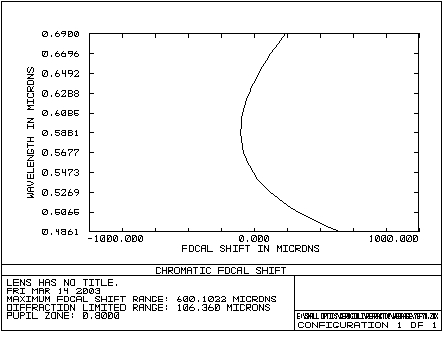 Figure 11: Color Curve for a 75mm f/7 Achromat having a "Planetary" Correction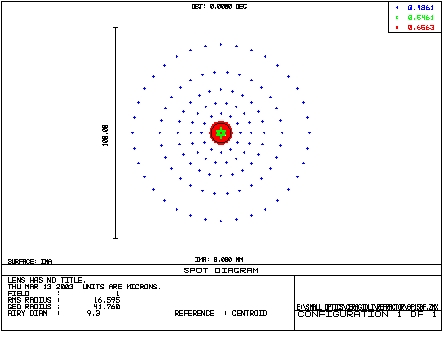 Figure 12: Spot Diagram for a 75mm f/7 Achromat having a "Planetary" Color Correction
Figure 12 shows the large overcorrection of color. The C-line is now nearly achromatized with the e-line. And the blue F-line is highly defocused. How advantageous it may be for the user of a small telescope to have his or her instrument corrected in these alternative fashions, I do not know. My experience solely revolves around making and using achromats with the C-F correction. It may be that for small amateur instruments these varying corrections amount to hair-splitting refinements, however valuable they may be for large professional lenses. Possibly someday I shall try these alternative corrections to test their advantages.
Below is the prescription for the original type-A 75mm f/7 cemented achromat with C-F correction:
| | | | | | | |
| --- | --- | --- | --- | --- | --- | --- |
| Surface | Type | Radius | Thickness | Glass | Diameter | Conic |
| Object | Standard | Infinity | Infinity | | 0 | 0 |
| Stop | | 242.2451 | 10 | BK7 | 80 | 0 |
| 2 | | -228.7913 | 5 | F2 | 80 | 0 |
| 3 | Standard | -2825.472 | 515.0987 | | 80 | 0 |
| 4 | Standard | Infinity | -0.0362 | | 0.0567 | 0 |
| Image | | Infinity | | | 0.0619 | 0 |
Table 1: Prescription for 75mm f/7 Cemented Achromat
Several features here deserve notice. At first glance it appears that the BK7 crown element has no second surface. We see its front surface listed as the stop surface, but next comes the front surface of the F2 flint, as if somehow the rear surface of the crown did not exist. In a sense it does not. Because optical cements and spacing oils leave a negligible gap between the contacted elements, and also because the cements' and oils' indices of refraction are usually close to those of the crown, when light passes from the crown into the gap there is almost no refraction. Only when it encounters the front of the flint does it experience another significant deviation. Thus, in effect, the gap can be treated as a negligible addition to the thickness of the crown, whose second surface possesses no importance optically (although must be accurately curved to allow cementing to the flint). We need not take separate account of it when specifying the design or raytracing the light paths.
Another point to note is that the "thickness" of surface 3 (515.0987mm) is the lens's paraxial back focal length (BFL)--that is, the distance from the vertex of the second surface of the F2 flint element to the lens's paraxial focus. But as we saw in the discussion of 3rd order spherical aberration in Chapter 2, the paraxial focus may not be the best one for the lens in general. So surface 4 has been added to give the distance from the paraxial focus to the best overall focus. In the present instance that distance is negative (-0.0362mm), in other words backward along the optical axis toward surface 3 of the lens. All subsequent prescriptions on this web site will add a similar "dummy" surface just before the image to give the distance from the paraxial focus to the best focus.
We can also see that at the paraxial focus, the beam diameter is 0.0567mm (~57 microns), whereas at the best focus it expands slightly to 0.0619mm (~62 microns). Both sizes are large compared to that of the Airy disk, which Figure 6 shows to be 9.3 microns. The size is large because it encompasses the red and (especially) the blue blurs. The change in beam diameter from paraxial to best focus is trivial compared to the overall size of the blur, and its expansion has to do with a small change in the diameter of the blue blur.
Finally, it is easy to see that the crown has a nearly equiconvex shape, while the last surface of the flint is nearly flat. By choosing different glasses from our garden variety BK7 and F2, we can readily make the crown fully equiconvex. A number of glass choices for this are possible, and an achromat employing an equiconvex crown is called a "Littrow" objective, named for the 19th century Austrian astronomer J.J. von Littrow [cf. Littrow, "On Double Object-Glasses,"
Memoirs of the Astronomical Society of London
3.2 (1829), pp. 235-255; Moser, p. 314; and Danjon & Couder, p. 227-229]. It is even possible by a more careful choice of glasses to produce a lens with an equiconvex crown and a flint which is fully flat on its rear surface. Such a design is given below and its performance is closely similar to the type-A objective:
| | | | | | | |
| --- | --- | --- | --- | --- | --- | --- |
| Surface | Type | Radius | Thickness | Glass | Diameter | Conic |
| Object | Standard | Infinity | Infinity | | 0 | 0 |
| Stop | | 244.0062 | 10 | SK11 | 80 | 0 |
| 2 | | -244.0062 | 5 | BaSF2 | 80 | 0 |
| 3 | Standard | Infinity | 514.227 | | 80 | 0 |
| 4 | Standard | Infinity | -0.0556 | | 0.0397 | 0 |
| Image | | Infinity | | | 0.0477 | 0 |
Table 2: 75mm f/7 Cemented "Clairaut-Littrow"

The glasses employed here are Schott's SK11, a dense barium crown, and BaSF2, a dense barium flint. Neither glass is quite as weather resistant as BK7 and F2, but under reasonable care both should be quite stable. This design might appeal to a manufacturer making a large number of small objectives, because less tooling would be needed than for the previous designs and the exterior surfaces could easily be anti-reflection coated. For the amateur maker, though, the flat 3rd surface has the drawback that it might produce a ghost image from skylight entering through the eyepiece and then being reflected back from the plane r3 surface, which would act like a flat mirror. The light would then come to a focus in the same plane as the main image, but might possibly be displaced to the side slightly (unless optical alignment was perfect) forming a faint "ghost" image. A bright star such as Vega could make an annoying ghost which would also float through the field as one scanned across Vega. With the telescope stationary, the ghost image might look like a false companion star.
Another drawback to all the lenses presented so far is that they exhibit coma off-axis. This is an undesirable trait, especially in a fast lens designed to image wide fields. Below is given the spot diagram for the 75mm f/7 type-A achromat at the edge of a 2 degree wide field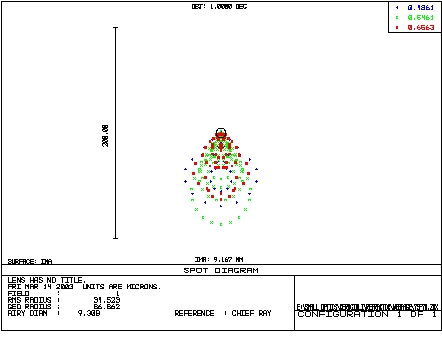 Figure 13: Off-Axis Coma in 75mm f/7 Type-A Achromat
The relationship between the Airy disk and the size of the comatic blur is obvious, and the coma is considerable. As a sidelight, it is interesting to note the chromatic variation of coma, the blurs for red, green, and blue showing obvious differences in shape (though in practice these differences would be unobservable at the eyepiece). We would not tolerate such a bad image in a premium lens, for example in a good pair of binoculars or in an astrograph. But for a small cheap finder telescope, where only the center of the field is important, this much coma will not be disturbing or even readily visible at low power. For comparison, the comatic blur at the edge of a typical 1.5 degree field in a 200mm f/6 Newtonian reflector is also shown: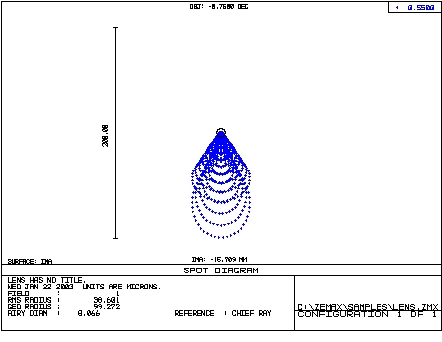 Figure 14: Coma at the Field Edge of a 200mm f/6 Newtonian
The size of the blur in Figure 14 is about the same as that for our 75mm f/7 achromat. Most people consider the edge definition in such a Newtonian acceptable for visual observing. But when it is desirable to build a fast cemented doublet achromat with better edge definition, the type-A design can still be used, so long as a very critical selection of glass is made. Such an aplanatic cemented lens may be called a "Harting" objective [cf. G. F. Dimitroff & J. G. Baker,
Telescopes and Accessories
, (Blakiston, 1945), p. 28; & H. Harting, "Zur Theorie der zweitheiligen verkitteten Fernrohrobjekitve,"
Zeitschrift für Instrumentenkunde
18 (1898), pp. 357-380]. The following prescription gives an example:
| | | | | | | |
| --- | --- | --- | --- | --- | --- | --- |
| Surface | Type | Radius | Thickness | Glass | Diameter | Conic |
| Object | Standard | Infinity | Infinity | | 0 | 0 |
| Stop | | 334.8227 | 10 | SK11 | 80 | 0 |
| 2 | | -227.9612 | 5 | SF19 | 80 | 0 |
| 3 | Standard | -984.771 | 517.397 | | 80 | 0 |
| 4 | Standard | Infinity | -0.0289 | | 18.373 | 0 |
| Image | | -198.0643 | | | 18.358 | 0 |
Table 3: 75mm f/7 Coma-free Cemented Achromat
The ray fan plots and spot diagrams for both the axial image and a 1 degree off-axis star come next: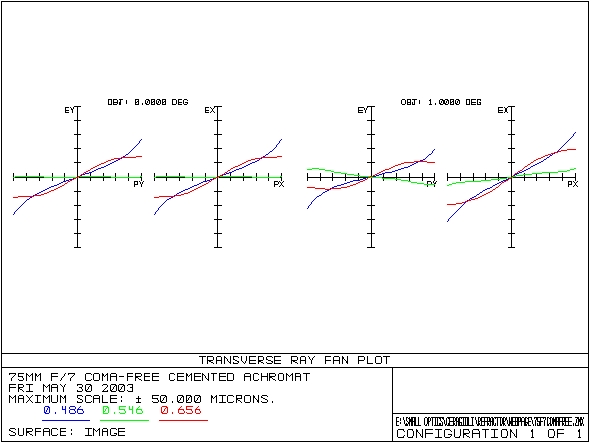 Figure 15: Ray Fan Plots for a 75mm f/7 Coma-free Cemented Achromat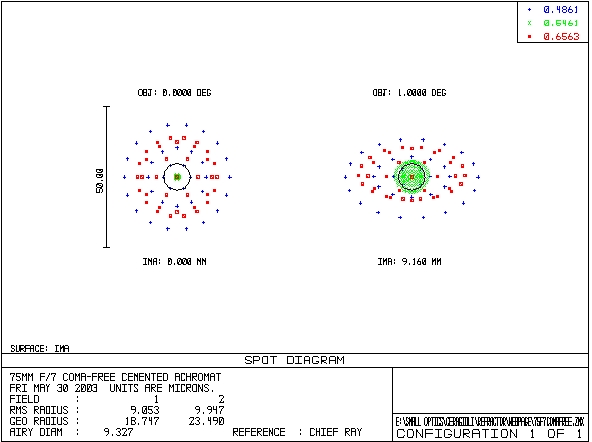 Figure 16: Spot Diagrams for a 75mm f/7 Coma-Free Cemented Achromat
It is easy to see the considerable improvement in the spot diagrams. At 1 degree off-axis, the spot on the right shows no coma, but only the elliptical shape of astigmatism. In practice, this ellipticity would be hard to see visually because a low power eyepiece would have to be employed to make the off-axis star visible at all. Aberrations both in standard eyepieces and in most observers' eyes would swamp the objective's small effect. So the objective would give essentially perfect monochromatic images over a two-degree field. And even the axial chromatic aberration would not be obtrusive at the low power.

Looking back at the ray fan plot in Figure 15, we can see that the fans for the axial image (on the left) appear essentially identical to the fans shown in Figure 2 above for the original type-A objective. While the fans for the off-axis image (on the right) show just a slight amount of the tangential and sagittal slope difference indicative of astigmatism, confirming what we saw in the spots of Figure 16.
Table 3 above shows a couple of novel features. For the first time a finite value for the radius of curvature of the image surface (-198.0643mm) appears in column 3. This means that the lens has field curvature--or rather, that it gives its best images on a curved surface. A curvature of -198mm is rather severe and would probably preclude use of the lens for photography unless one somehow flattened the field. Still, such a value for the field curvature is close to what is ubiquitous in the 8" f/10 Schmidt-Cassegrains (SCTs). Visually, the coma-free doublet will give excellent low power images.
The diameter of the beam at the paraxial focus and the best focus is quite large (about 18 mm). That is not because the images themselves are very large, but is mainly a measure of the distance from the axial to the off-axis image. And what that means is that we have here a measure of the linear radius of a two degree field of view in our telescope. So in a 75mm f/7 telescope you get a 2 degree field over 36 (18x2) mm, or about 1.4 inches. For reference, a typical 2" OD eyepiece will have this much or somewhat more linear field size.
To get a coma-free doublet, we have chosen two special glasses: Schott's SK11 (same as in the Clairaut-Littrow lens above), and SF19, an extra dense flint glass. Both are stable, standard glasses, and the above lens could really be made according to the prescription.
Another way to get a coma-free doublet is to aspherically figure a cemented doublet made with BK7 and F2. The following table gives the design for such a lens:
| | | | | | | |
| --- | --- | --- | --- | --- | --- | --- |
| Surface | Type | Radius | Thickness | Glass | Diameter | Conic |
| Object | Standard | Infinity | Infinity | | 0 | 0 |
| Stop | | 330.323 | 10 | BK7 | 80 | 0.4083 |
| 2 | | -185.666 | 5 | F2 | 80 | 0 |
| 3 | Standard | -687.146 | 517.941 | | 80 | 0 |
| 4 | Standard | Infinity | -0.05816 | | 18.375 | 0 |
| Image | | -196.819 | | | 18.358 | 0 |
Table 4: 75mm f/7 Aspheric Cemented Achromat
The powers of the lenses have been chosen to correct longitudinal chromatic aberration and to give the proper focal length, while the lens's bending has been chosen to correct coma and is similar in its general shape to the coma-free lens of Table 3 above. It is now the asphericity of surface 1 (the stop surface) which corrects 3rd order spherical aberration.
The main reason for not making this lens is that it is never easy to generate aspheric surfaces accurately, and so despite the freedom from coma which this lens offers, it will be better and easier to make the lens of Table 3. Still, it is a useful learning experience to see another way of arriving at a coma-free objective. The ray fan plots and spot diagrams are quite similar to those which appear above in Figures 15 and 16. Thus I will omit them.
That concludes our survey of cemented doublet achromats. In the next chapter we turn to uncemented forms.