On the left we have the large crown singlet objective lens. Light initially passes from left to right in the diagram, and then encounters the much smaller flint element on the right. The rear surface of the flint can be silvered or aluminized to return the rays (now moving from right to left) back through the flint and on to focus near the objective. An elliptical diagonal mirror (not pictured) would be needed--as in a Newtonian reflector--to direct the final light beam out of the tube at right angles, making it accessible to an eyepiece.
In order to understand what all this means, let us go through the design steps more carefully, one by one using illustrations. First, in regard to the objective Schupmann bent it into a shape which would give exactly zero coma to the wavefront passing through it, as well as minimal spherical aberration. Then he placed his "Mangin" corrector beyond the prime focus. It can in principle go anywhere beyond focus, though practical considerations impose limits. But by moving to beyond focus, Schupmann could choose the curvature for his Mangin such that the light rays would return back upon themselves and proceed back to the prime focus of the objective. The key insight here is that any spherical mirror will image point objects lying slightly to the side of its center of curvature (i.e. off-axis) also as point images slightly to the other side of its center of curvature. In other words, it will image coma-free off-axis objects as coma-free off-axis images [cf. L. Schupmann, "Über Medial-Fernrohre von kurzer Brennweite,"
33 (1933), pp. 308-312, especially p. 310 for his explicit discussion of how this relates to the Medial]. Now, since the objective also images without coma, the system will be coma-free.
Second, by making the corrector of a very similar--or even better, exactly identical--glass to the objective, it is possible to correct perfectly for secondary spectrum. Schupmann originally choose a light flint for his correctors because he wished to make the correctors very small, from 1/8 to 1/12 this size of the objective. He appears to have proposed that because he wished to retain the classic look of large observatory refractors--something familiar and reassuring to astronomers--to which would be added a modest appendage, namely his corrector, attached inconspicuously at a right-angle to the bottom of the telescope tube in an "elbow" arrangement. In a similar way, astronomers of the day attached micrometers or plateholders or spectrographs. So, no radical threatening change in the appearance or function of telescopes would occur by building Schupmann's proposed design. But the disadvantage was that by making the corrector so small, it needed great lens powers to do its job, which in turn made it impossible to correct the singlet objective's spherical aberration,
if the corrector were made of the same crown glass as the objective. By choosing a light flint, and moreover by making the corrector a doublet, Schupmann could retain his small appendage of a corrector, achromatizing the objective and correcting for spherical aberration.
Unfortunately, this version of the design did not work very well. Nor shall I illustrate it for the moment. Let us instead first illustrate and discuss the better, recent version of Schupmann's Medial called the "Super-Schupmann," and only then talk about the history of the Medial from Schupmann's time until today, illustrating that talk with a design approximating the earliest historically important Medial: the 333mm f/15 Urania Observatory instrument completed in Berlin in 1902.
For the present "Super Schupmann" design, I will assume an objective and corrector both made of identical BK7 glass. Thus the front surface of the Mangin mirror will be chosen--as in the Hamiltonian--so that light traversing through it twice will acquire exactly enough negative chromatic aberration to cancel that of the objective. The mirrored surface of the Mangin will still cause the light rays to proceed back on themselves to the original coma-free focus. And so, now we have a telescope which focuses, and is free of coma and longitudinal chromatic aberration--more or less. Unfortunately, in actual practice the system so far specified does not quite work. But nevertheless, I will give a layout and analysis so that the reader can see more clearly where we have come so far:
It is easy to see that on-axis the Medial does not give excellent color correction, and off-axis it shows considerable lateral color, as most dialytic systems do. Spherochromatism is not well corrected, and coma is noticeable, varying by color. Schupmann escaped from this situation by adding another lens element, which can either consist of a small convex singlet lens or a concave mirror placed at the prime focus. What that element does is ingenious.
As we saw in Chapter 5, the problem with dialytic systems is that polychromatic chief rays entering the entrance pupil arrive at distant correctors badly off-center, striking them obliquely and dispersing according to their component colors. What needs to happen is somehow for the distance between the separated elements to collapse to nothing, so that what are chief rays for the objective still remain in essence chief rays for the corrector. Unfortunately, in a dialyte that cannot easily happen as it can in an ordinary doublet or triplet refractor, where the lens elements lie nearly on top of one another. But Schupmann hit on a clever strategm, which cannot be done in the Hamiltonian, the Brachymedial, or any of the designs shown in Chapter 5.
What Schupmann did was to introduce a small relay lens between the objective and the corrector, placed near their mutual focus. The relay lens served to focus an image of the objective itself onto the corrector, relaying as it were the former to the latter as though no distance lay between the two (i.e. objective and corrector lie at two finite conjugate points for the relay). By so doing, the relay effectively abolished the separation, and the system behaved as if it were not dialytic. The result is that lateral color is radically diminished, and in principle can be totally abolished [cf. J.G. Baker, "The Catadioptric Refractor,"
Astronomical Journal
59 (1954), pp. 74-83, especially p. 79]. Moreover, red rays and blue rays from the axial image are brought much closer together, almost as they were when they departed from the objective originally, making the job of the Mangin corrector much easier. The Mangin itself is now placed further from the objective and its resultant curves become such as to correct the objective's spherical aberration. Since all colors of light now enter the Mangin much closer together, there is less variation of spherical aberration with wavelength. And likewise with coma.
At present most Medials are built with relay mirrors rather than lenses. Thus, I give the layout of a complete Super-Schupmann with relay mirror below:

Layout 6: 150mm f/10 Super-Schupmann with Relay Mirror
Light enters from left, is focused by the objective on to the very small relay mirror at extreme right, is then reflected back to the Mangin mirror in the middle and is then re-reflected back to the position of the original focus at extreme right. The performance is as follows: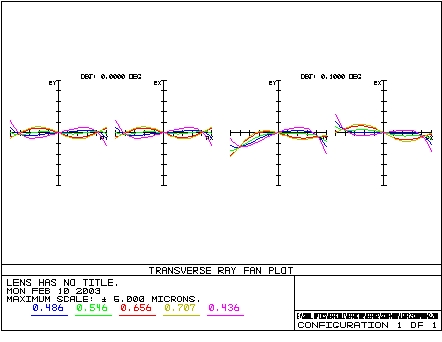 Figure 7: Ray Fan Plots for 150mm f/10 Axially Centered Super-Schupmann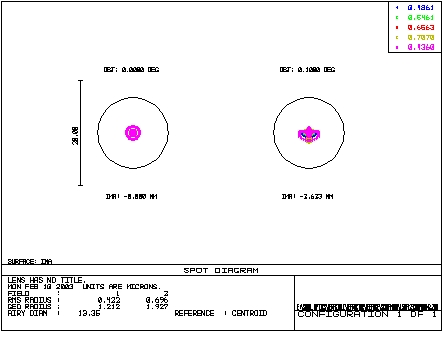 Figure 8: Spot Diagrams for 150mm f/10 Axially Centered Super-Schupmann
Clearly, the imagery is now vastly improved, by far the best we have ever seen. Only a negligeable amount of spherochromatism, coma, and astigmatism now remain. Therefore, the spots are tiny compared with the Airy disk, and the color correction is incomparable. There is no lateral color. But alas, the system is unusable!
Unfortunately, the focus falls on the relay mirror and the Mangin corrector obstructs the beam coming from the objective. Every possible Medial design suffers from one or both of these problems when it is used in an axially centered arrangement. Thus, in order to gain access to the focus, we must tilt one or more components. In the above design we must tilt the relay mirror in order to displace the corrector to the side of the beam incoming from the objective. This first tilt is practically harmless. But then in every Medial system a second, quite harmful tilt must occur: namely, the corrector must be tilted slightly to displace the final focus into an accessible position. For our Medial design, the final configuration will look as follows:

Layout 7: 150mm f/10 Super-Schupmann with Tilted Elements
The arrangement of elements is exactly as in Layout 6 above, but with the minimum practical tilts applied, so that the final focus (on extreme right above relay mirror) will be accessible for an eyepiece. These tilts make the Medial a TCT, or "Tilted Component Telescope." Such telescopes do not form perfectly symmetrical and round blur spots and have other peculiar properties. Fortunately, most of the Super-Schupmann's image oddities are comparatively small and need not detain us. The only problem to note is that now, because of the tilted optics, the images show pronounced astigmatism: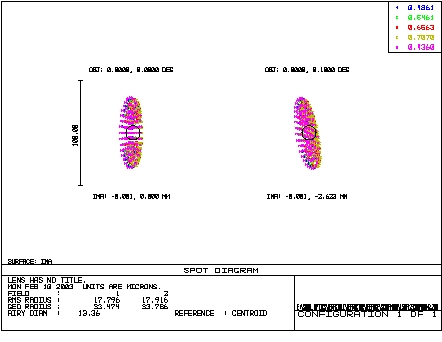 Figure 9: Spots for 150mm f/10 Tilted Super-Schupmann Medial
In order to compensate this problem, Schupmann recommeded tilting the objective lens in a plane perpendicular to that of the tilts of the field mirror and corrector. In other words, while the field mirror and corrector are tilted in the y/z-plane, the objective should be tilted in the x/z-plane (i.e. toward or away from the viewer). The tilt angle is small and because the objective is coma-free, a small tilt in its orientation produces only astigmatism, which can compensate the astigmatism produced by the tilt of the corrector. As an alternative, James Baker suggested polishing a slightly torroidal figure into the corrector itself. Either method can work and both largely do the same thing to the wavefront. Using a small objective tilt, we obtain the following ray fan plots and spot diagrams: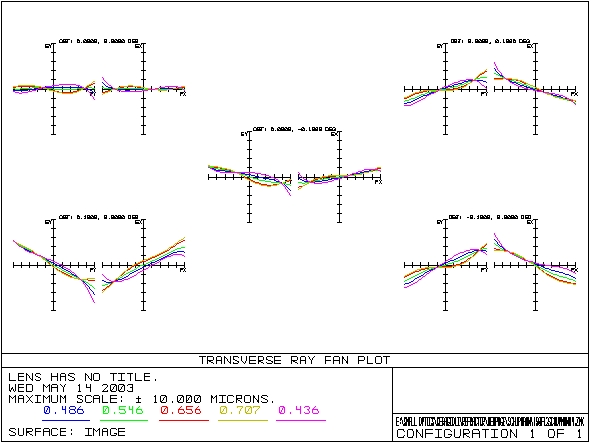 Figure 10: Ray Fan Plots for 150mm f/10 Super-Schupmann with Tilted Objective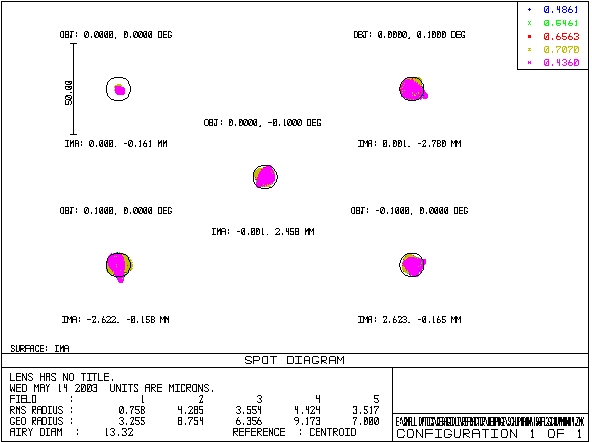 Figure 11: Spot Diagrams for 150mm f/10 Super-Schupmann with Tilted Objective
An explanation of these peculiar diagrams is in order. In both Figures 10 and 11, we have in the upper left corner the ray fan plot and spot diagram for the field center. Here the Medial forms a very good image for all colors. The other plots and diagrams show field positions 0.1 degree off-axis in the four cardinal directions, along the x- and y- coordinate axes specified in Chapter 1. Moreover, the image plane has now been tilted about 2 degrees along the x-axis and 1 degree along the y-. Image plane tilts are a common feature of TCTs. The plane of the image is thus not quite square with the optical axis. Fortunately, the tilts seen in the Medial are very small and of no practical importance. Other TCTs can involve image plane tilts of 10 degrees or more. But, it is necessary to include the tilts in our ray trace in order to establish the Medial's ultimate imaging capabilities.
Because of the diverse tilts in the design, we cannot expect symmetrical spots from a Medial and clearly we do not get them. Even so, over a field of about 12 minutes of arc we find essentially diffraction limited performance in a well-made and collimated 150mm f/10 Super-Schupmann. Beyond that, astigmatism limits the image quality. Yet, very likely a user of the above system would perceive nothing but pin-point images over a 1 1/4" diameter field, since the astigmatism in not large. So the above image errors should not be condemned. A Medial is intended as a narrow-field high resolution instrument, not an astrograph. It is far cheaper to build than a triplet apochromat, has almost perfect color correction, and can eliminate atmospheric dispersion from images of planets or stars lying at a low altitude by tilting the field mirror. It can even act as a stellar spectroscope, since its field lens or mirror can not only remove lateral color, but also
induce
it! Schupmann was well aware of that property in Medials and discussed how to optimize it [cf. L. Schupmann, "Mechanische Einrichtung und Gebrauch der Medial-Fernrohre mit einfachem Spiegel,"
Zeitschrift für Instrumentenkunde
41 (1921), pp. 253-258, especially, p. 255]. Thus, the Medial is a versatile instrument indeed!
C. History of the Medial and the Brachymedial.
It will be appropriate now briefly to sketch the history of the Medial and Brachymedial designs and their reception. As noted above, Schupmann began his research into dialytic refractors by the early 1890s. In 1892, he indicates, he had formed the plan of getting a Medial built [Schupmann,
Die Medial-Fernrohre
, p. 9]. Clearly, then by the same year he had already developed the concept of the Medial. But the difficulties involved, he notes, seemed worse than they actually were [p. 9]. So he made other attempts with dialytes, calculating a diverse number and getting them built [p. IV & 9]. Certainly by 1893 he had constructed a primitive Brachymedial and observed through it in the fashion of a Herschelian [p. 4]. Yet in the end he came back to the idea of the Medial [p. 9]. By the summer of 1897, he says, he had gotten built a Medial of 120mm aperture, 1500mm focal length [f/12.5], and employing a corrector of 14mm diameter [p. 9].
At some point in the 1890s, he decided to write a book about the design. Possibly this was after an incident in which he presented the idea to Ernst Abbe, who remarked that actually, he himself ought to have come up with it! [cf. C. Wolter & R. Merz, "The Neglected Schupmann Refractor,"
Sky and Telescope
(March, 1983), pp. 273-278, epecially p. 273.] At any rate, write a book he did--an extremely thoughtful and thorough book of 20 chapters and 146 pages--getting it published in 1899 by the well-known scholarly book publisher, B.G. Teubner, in Germany. The date coincided, of course, with the many attempts in Germany, England, and America, to break through the technological impasse at which professional astronomy had arrived in the construction of "great telescopes" [cf. Chapters 4a and 4b above]. And Schupmann's efforts must be seen in that context.
Despite Alvan Graham Clark's confidence in 1893 that "great telescopes of the future" would be achromats, the limitations of normal doublets were increasingly prohibitive [cf. A.G. Clark, "Great Telescopes of the Future,"
Astronomy and Astro-Physics
12.8 (1893), pp. 673-678]. Already in 1879, C.S. Hastings had declared that secondary spectrum "is positively obnoxious in the large instruments and will speedily put an end to farther [sic] increase in dimensions" [cf. C.S. Hastings, "On Triple Objectives with complete Color Correction,"
The American Journal of Science and Arts,
3rd series, vol. 18 (1879), pp. 429-435, especially p. 429]. Yet the increase continued until 1897 when the Clarks--or rather their employees, the Lundins--finished the Yerkes 40".
At almost the same time, Max Pauly was working on his experimental 200mm doublet for Zeiss (cf. Chapter 4a), Albert König was working on the design of his triplet (cf. Chapter 4b), Taylor was busily making large triplets up to 315mm (cf. Chapter 4b), and Ritchey was working on the improvement of reflectors. No one could say for certain which way telescopes would go in 1899.
With hindsight it seems glaringly obvious that the reflector would win the competition and become the standard large instrument. But when Yerkes was new, the reflector was still bulky, awkward to use, and in need of fresh silver coatings several times per year. Good reflectors were small, large reflectors were useless for precision work. They seemed impermanent, clumsy instruments, the "poor man's telescope" when he could not afford a sleek achromatic model "from one of the finest makers."
This was the technological setting in which Schupmann proposed his "New Construction for Large Astronomical Instruments." There was no large, convenient, apochromatic telescope; every design contained major flaws. But somehow everyone hoped to break the 1-meter barrier for professional telescopes. Thus, Schupmann could seriously propose the Brachymedial and Medial designs, each of which offered something new and useful: the former relative compactness and large a aperture; the latter better image correction at the expense of a standard tube length. Both offered apochromatic axial color correction and apertures potentially in excess of 1 meter. Both were meant to be far more immune to image-damaging flexures than the achromat or especially the reflector.

Schupmann got his first chance to demonstrate a large Medial in 1901, when the Urania Observatory in Berlin offered to let him convert their traditional 12" achromat to a Medial [cf. K. Graff, "Ueber das auf der Uraniasternwarte in Berlin ausgeprobte Medialfernrohr," Astronomische Nachrichten 158 (1902), pp. 279-282]. Schupmann calculated the design and the Munich firm of Reinfelder and Hertel built the instrument. Dr. K. Graff reported on the results in the widely read astronomy journal Astronomische Nachrichten. Graff's report was honest, noting that the axial images were very sharp (chi Aquilae was well split in rather poor seeing), the color correction was nearly ideal, and that Mars gave "blameless images" with a surprising fullness of detail. Yet the light-loss from so many extra surfaces (the Urania Observatory Medial had 10 uncoated refractive surfaces and 2 reflective) noticeably dimmed the image relative to the standard 12" achromat; and the usable field of view was quite limited. There were also important difficulties in applying a micrometer to the instrument. Yet, Graff hastens to add that his remarks in no way constituted a detraction to the invention, since the deficiencies were partly due to the inconvenience of having to adapt a new optical system to usual tube of a refractor.


Alas, this was not an auspicious beginning to Schupmann's hope of building large new instruments. Yet, the positive report concerning axial image sharpness and excellent planetary detail was encouraging. The problem which Schupmann was facing was that his design--quite different from the later "Super-Schupmann" illustrated above--involved a very small doublet corrector of 41.6mm clear aperture with highly curved surfaces to correct an objective of 335mm diameter. Thus, the ratio in size of corrector (or "compensator") to objective was 1:8. The design was more or less identical to what Schupmann had proposed in his book. Schematically it looked approximately as follows:

Layout 8: Urania Observatory 335mm f/15 Medial with "Elbow" Corrector
Clearly the corrector, seen on the right above the prime focus for the objective, is far smaller in relation to its objective than the corrector shown above in Layout 7 for the Super-Schupmann. The right-angle deviation of the beam in Layout 8 is accomplished by means of a right-angle prism cemented to the back of the field lens. The next layout shows the prism-corrector end of the system in greater detail: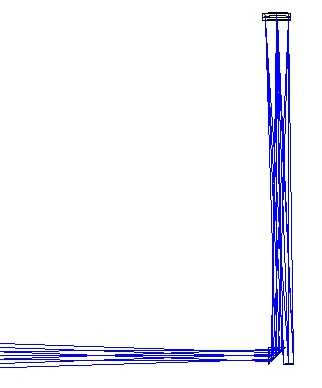 Layout 9: Closeup of Elbow Arrangement in the Urania Observatory Medial of 1902, Showing the Field Lens plus
the Right-Angle Prism, Corrector, and Focal Plane
Ray bundles for three field positions are shown, giving three foci to define the focal plane. In the case of this Medial, the tilt of the corrector has been made very small, so that the ray bundles just barely pass the hypoteneuse of the right-angle prism. That is precisely how Schupmann designed his systems, and he makes a point of emphasizing it several times. Indeed, in his final published article, he gives a marvelously drawn perspective illustration showing the view into the back of the focuser tube of a Medial, and it is plain to see that the prism extends into the upper 1/5 of the field of view [cf. L. Schupmann, "Mechanische Einrichtung und Gebrauch der Medial-Fernrohre mit einfachem Spiegel,"
Zeitschrift für Instrumentenkunde
41 (1921), pp. 253-258, especially, p. 256, Figure 7; also cf. pp. 254-255, where he discusses and illustrates the splitting in half of the focuser tube to allow the eyepiece's axis and the prism's axis to coincide as closely as possible; and cf. L. Schupmann, "Über Medial-Fernrohre von kurzer Brennweite,"
Zeitschrift für Instrumentenkunde
33 (1913), pp. 308-312, especially, p. 309-310].
A further closeup of the corrector doublet gives an idea of what all the correctors in Schupmann's telescopes looked like during his lifetime. Only in his later work did he explore the possibility of a single-lens corrector and only after his death was the switch actuallly made: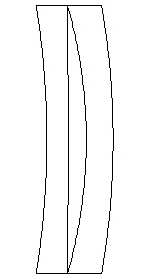 Layout 10: Corrector Doublet for Urania Observatory Medial
I will not attempt to simulate the spot diagrams and ray fan plots for this instrument since my ZEMAX results are not fully convincing. Certainly, the instrument had worse performance than that seen above in the Super-Schupmann, showing some secondary spectrum (due to the light-flint corrector) and enough off-axis image aberration to limit the field. K. Graff's report, cited above, is sufficient testamony to the telescope's advantages and limitations. Whether Schupmann calculated a special set of eyepieces to be used with this telescope, I do not know.

In his later instruments, Schupmann eased the ratio in diameter of the compensator to the objective down to about 1:5 or 1:4. The present-day Super-Schupmann further eases this to about 1:1.8. As James Baker noted in 1954, perhaps to some extent Schupmann's Medial never really took hold because of "Schupmann's zeal to overdo the duties of his compensator" [J.G. Baker, "The Catadioptric Refractor,"
Astronomical Journal
59 (1954), pp. 74-83, especially p. 78]. As we have already seen many times on this web site, optics with highly curved surfaces often bring in their train large residual aberrations, difficulties of centration, and thermal problems as the glass cools down during the night. Larger Medial compensators, involving as they do weaker curves and simpler constructions, definitely tend to bring better results--so long as the compensators are not made positively huge [cf. J.A. Daley,
Amateur Construction of Schupmann Medial Telescopes
(Privately Printed, 1984), pp. 14 & 24].

Schupmann had to wait a decade, it seems, for another attempt at a large instrument. In the meantime, Hale and Ritchey had perfected the large observatory reflector by building the 60" on Mt. Wilson. This was deemed to be so good and so much in advance of conventional refractors for astrophysical research and photography that it was now improbable that any professional astronomer would want to construct a large experimental catadioptric refractor for a new observatory. Nevertheless, for smaller observatories and for amateurs desiring a substantial refractor for visual studies of the planets and moon, a Medial might still possess attractions.

Thus, around 1912 Philipp Fauth, the well-known German amateur selenographer, asked Schupmann to design a 385mm diameter Medial at a focal ratio of f/10 giving good definition over a comparatively large field for his lunar studies. Schupmann took up the case with thanks, and sometime in 1913 [perhaps February or May, the chronology is confused] the instrument was readied by well-known Munich firm of G. & S. Merz for Fauth's observatory near Landstuhl, Germany [cf. L. Schupmann, "Das Medial-Fernrohr zu Landstuhl," Astronomische Nachrichten 196 (1913), pp. 101-106; and "Über Medial-Fernrohre von kurzer Brennweite," Zeitschrift fü r Instrumentenkunde 33 (1913), pp. 308-312; also H. Fauth, "Philipp Fauth and the Moon," Sky and Telescope 19 (November, 1959), pp. 20-24, where Fauth's son Hermann gives a date of 1911 for the Medial].

In order to achieve Fauth's goal of f/10, Schupmann abandoned his tiny corrector design and settled on a corrector/objective ratio of 1:5.4. Still using a doublet corrector, but this time made of normal crown glass instead of the light flint he had been forced to adopt for the Urania Observatory Medial, he could correct both spherical aberration and coma, and achieve complete color correction. Schupmann mentions in his 1913 Astronomische Nachrichten article cited above that if an ordinary flint glass were used for Fauth's instrument (say, F2 or F4), and a corrector/objective ratio of 1:4.2 were selected, it would be possible to make a single-element corrector. Unfortunately, however, the instrument would again have residual secondary spectrum equivalent to that seen in a 385mm achromat operating at f/25.4. On the other hand, by suitably increasing the radius of curvature of the field lens and designing special eyepieces, it would be possible, he notes, to decrease that secondary spectrum by 1/2 [cf. L. Schupman, Astronomische Nachrichten (1913), p. 104].

Thus was Schupmann constantly thinking and striving for improvements in his Medial, and willing to consider even how the eyepieces might be pressed into service to correct the whole optical system. Alas, that also tended to condemn his instruments as specialized designs ill-suited to the diverse needs of professional astronomers. Ritchey's reflectors were constantly used at several focal ratios by inserting of various Cassegrainian secondary mirrors, could take wide-angle prime-focus astrophotos or high dispersion spectra, had convenient, stable mountings, and could be scaled up to at least 5 meters diameter. It was hopeless to think that Schupmann's Medials could compete with that.

In any case, Fauth's 385mm f/10 instrument (the geometry was similar to Layout 8 above) was completed and used with great success for many years [cf. H. Fauth, "Philipp Fauth and the Moon," Sky and Telescope 19 (November, 1959), p. 22 for a photograph of the instrument]. It was the largest Medial in the world until it was destroyed at the end of the Second World War [cf. C. Wolter & R. Merz, "The Neglected Schupmann Refractor," Sky and Telescope (March, 1983), pp. 273-278, epecially p. 273].

One feature of his Medial designs which especially pleased Schupmann was their lightness. Fauth's Medial of approximately 385mm aperture was carried on the mounting of a 175mm ordinary refractor. In a report to Schupmann, Fauth states that the smaller dome needed for his compact instrument produced noteworthy cost savings in its construction and faster equilibration of the air, in addition to making the dome easier to handle with no complexities in its motions. A simple handgear, it seems, was enough to turn the dome. Fauth claims that over 75% of the total construction cost was spent on the optical apparatus, a notable saving in comparison with large 19th century achromats [cf. L. Schupmann, "Das Medial-Fernrohr zu Landstuhl," Astronomische Nachrichten 196 (1913), pp. 101-106, especially p. 106].

The disruptions of the First World War seem to have abstructed further building of Medials and ended Schupmann's publications about them, despite Fauth's very positive report concerning his 385mm instrument. Near the end of the war in 1917, Professor Anton Staus did order another Medial of 325mm aperture, and Schupmann appears to refer to this instrument in his last article published after his death in 1920. Schupmann speaks of it as half finished and hindered from completion first by the war, and then by the post-war inflation which ruined Germany's economy. G. & S. Merz, however, somehow managed to deliver the instrument and in the hyperinflationary year of 1923, Max Mündler compared its performance to the conventional 300mm Steinheil achromat of the Heidelberg Obervatory. He seems to have been convinced that the Medial was of very high quality. In recent years this Medial has been moved to Stuttgart and is apparently now the oldest Medial in existence [cf. Wolter and Mertz, pp. 273-276 ; & http://home.arcor.de/maranelli/astro/teleskope.html].

When Schupmann died in 1920, he left behind two papers which were published a year later in the journal Zeitschrift für Instrumentenkunde. The first paper dealt with the design and calculation of Medials employing a single-element flint corrector [cf. L. Schupmann, "Berechnung der Medial-Fernrohre mit einfacher Spiegellinse," Zeitschrift für Instrumentenkunde 41 (1921), pp. 212-219]. As noted above, the idea of shifting from two-elements to one had occurred to Schupmann while working on Fauth's Medial, since as Schupmann gradually let go the idea of making tiny unobtrusive correctors, he realized that he could also answer the complaint that too much light was lost by passage through so many surfaces. At a stroke, he could save about 16-20% of the light by dropping the first refractive element of his uncoated doublet corrector. Unfortunately, this first paper published in 1921 was obviously never finished and is missing an illustration directly referred to in its opening paragraph. It also apparently contains several substantial typos, and the whole is somewhat difficult to follow since it largely consists of equations and calculations. Nevertheless, the idea contained within it is clear and nowadays, it is not hard to model a similar type of instrument using modern ray-tracing software.

Schupmann's second 1921 paper is complete and deals admirably and in detail with the mechanical construction of a Medial employing a single-lens corrector, as well as with questions of collimation, and with what had become a rather anxious problem for Schupmann since the Urania Observatory Medial, namely how best to use a filar micrometer with his instruments [cf. L. Schupmann, "Mechanische Einrichtung und Gebrauch der Medial-Fernrohre mit einfachem Spiegel," Zeitschrift für Instrumentenkunde 41 (1921), pp. 253-258]. Schupmann had from the time of his first book honestly tried to evaluate and improve the deficiencies of his designs, and gradually he had come to realize that making accurate micrometric measurements in a Medial was not a simple matter. One problem was the image plane tilt which could cause a parallax error if the user were not careful, since the micrometer webs would not lie parallel to the image plane. And another problem was image distortion over the field, which precluded use of the Medial to measure stellar parallaxes.

The solutions he proposed may be valid, but they involved extra inconvenience and sources of error when astronomers want just the opposite. One radical solution involved making micrometric measurements at the uncorrected prime focus. But that would be hard to achieve in practice because of the difficulties of inserting (and repairing) the spider webs and mechanism to move them inside the main tube of the telescope. Moreover, chromatic effects at the prime focus would be severe, as Schupmann realized. Nevertheless, he apparently never gave up hope that he could still make his clever Medial system a scientific as well as an optical success.

Once Schupmann was gone, the next steps forward were taken by others. Anton Kutter, who later devised the Schiefspiegler and Tri-Schiefspiegler TCTs, used Fauth's Medial from 1932 onward, according to James A. Daley. Daley indicates on an internet web site that he corresponded with Kutter, who in 1971 gave him unique information about Schupmann's life [cf. http://www.stellafane.com/schupmann/ludwig_schupmann.html]. In 1984, Daley also privately published a highly useful booklet entitled, Amateur Construction of Schupmann Medial Telescopes , which contains much excellent information, complete instructions for designing and building the so-called "Super-Schupmann" form of Medial, and a useful historical summary of the development of Medials in recent decades. I owe key details in the following paragraphs to Daley's two accounts.

According to Daley, Kutter constructed two replicas of Fauth's Medial, the first of 122mm aperture in 1936, and the second of 270mm aperture in 1938. The latter instrument was destroyed during the Second World War. Then in 1946, Kutter built a third instrument of 150mm and novel design arrangement meant to enclose the light path fully inside a single telescope tube [cf. J. A. Daley, Amateur Construction of Schupmann Medial Telescopes (Privately Printed, 1984), pp. 4-5; & http://www.stellafane.com/schupmann/ludwig_schupmann.html for a photograph of Kutter's instrument]. This instrument was the first Medial to use a single-element corrector of flint.

Until 1941 there was apparently no knowledge of Schupmann and his designs in the United States, when Carl A. Hellman published a short article in the popular astronomy magazine, The Sky , about the Brachymedial. Hellman termed the design, "the Schupmann Telescope," apparently in ignorance of Schupmann's book and extensive publications about the Medial proper. It seems that Hellman was working from the US Patent [no. 620,978] which Schupmann had taken out in 1899 regarding both of his designs. Hellman considered the Brachymedial as a possibly interesting project for an ATM to build and constructed a 108mm specimen for himself [cf. C.A. Hellman, "The Schupmann Telescope," The Sky 5.2 (September, 1941), pp. 14-15]. Thus began the US amateur interest in making Medial telescopes.

One and one-half years later in 1943, Albert G. Ingalls, the well-known proponent of amateur telescope making in America took an interest in Hellman's article and wrote about the Brachymedial himself in his long-running column "Telescoptics," published in Scientific American magazine. Not only did Ingalls obtain a copy of the US Patent and publish some of its details, but he discussed the amateur construction of a 200mm Brachymedial by Joseph Dwight in Massachusetts during 1942 [A.G. Ingalls, "Telescoptics," Scientific American (April, 1942), pp. 191-192].

After the Second World War, American interest began to pick up. A.G. Ingalls again reported on the Brachymedial in 1947, quoting extensively from a letter by Dwight about his completed instrument [A.G. Ingalls, "Telescoptics," Scientific Amercian (August, 1947), pp. 93-96]. Up to this time, the American ATM community seems still to have been ignorant of Schupmann's publications and the past existence of three large Medials and several smaller ones in Europe. Then in 1954 the situation changed completely, when James G. Baker published an extensive review article in The Astronomical Journal about Schupmann's dialytic method of correcting aberrations. Baker discovered and read Schupmann's publications and naturally understood the intricasies of his optical work. He again brought that work to the attention of professional astronomers and optical designers, giving a correct account of Schupmann's telescopes [cf. J.G. Baker, "The Catadioptric Refractor," The Astronomical Journal 59 (1954), pp. 74-83].

Baker tried to interest professional astronomers with the possibility of turning their large old achromats into far more efficient apochromats by means of a modified crown-flint corrector. He threw out Schupmann's conservative notion that the corrector should be mounted in an elbow arrangement at the bottom of a standard refractor tube, and therefore also the necessity of a small corrector. He advocated large correctors having ratios from 1:3 even up to even 1:1 with their objectives. The field lens plus right-angle prism could be replaced with a field mirror when convenient or with a lens and specially shaped prism to send the light back up the tube but displaced to the side of the main beam [cf. Baker, Astronomical Journal 59 (1954), pp. 75-78].

Baker proposed and began the building of a 735mm Medial to be sited at a high-elevation site in the American Southwest [cf. Baker, Astronomical Journal 59 (1954), pp. 81-83]. And he seems to have persuaded Joseph H. Rush of the Medial's capability as a coronagraph. In 1964, the latter reported the completion of a new coronograph and spectrograph employing Schupmann's dialytic principle, sited at the High Altitude Observatory in Climax, Colorado [cf. J.H. Rush & G.K.Schnable, "High Altitude Observatory's New Coronograph and Spectrograph," Applied Optics 3.12 (1964), pp. 1347-1352]. Rush also published for the first time a correct description of the Brachymedial (mistakenly called by him the "Brachyt") as well as the Medial in Scientific American in 1958 [cf. J.H. Rush in C.L. Strong, "The Amateur Scientist," Scientific American (May, 1958), pp. 130-138].

Baker also interested telescope makers in the Boston area with the building of Medials. He reported in 1954 that Chester Cook had completed a 200mm telescope, and James Gagan and Richard Dunn were nearing completion with a 400mm [cf. Astronomical Journal 59 (1954), pp. 78-79]. Four years later Rush reported that the latter had been completed and had given fine results [cf. J.H. Rush in C.L. Strong, "The Amateur Scientist," Scientific American (May, 1958), p. 138].

Then in November 1959, Hermann Fauth published a short article in the popular astronomy magazine, Sky and Telescope , about his father's lunar work, illustrated with a picture of the old 385mm Medial and with stunning examples of his father's moon drawings [cf. H. Fauth, "Philipp Fauth and the Moon," Sky and Telescope 19.1 (1959), pp. 20-24].

According to James Daley, the ATM Edwin Olson became interested in Medials after reading James G. Baker's Astronomical Journal article [cf. J.A. Daley, Amateur Construction of Schupmann Medial Telescopes (Privately Printed, 1984), p. 7]. Olson through the offices of Baker contacted Cook, who supplied plans for his own 200mm Medial. Olson then modified Cook's prescription and constructed a 150mm f/15 Medial which was the first to employ a field mirror and a full-sized corrector [cf. Daley, p. 7; & http://www.stellafane.com/schupmann/ludwig_schupmann.html for a photograph]. This instrument led to the formation of a Boston, Massachusetts area amateur club devoted to the development and popularization of a Medial design suitable for amateur construction.

The single most important achievement of this "Schupmann Club" occurred in 1969, when Cliff Ashcraft discovered that it was possible to build an aplanatic Medial employing a singlet corrector of the same type of glass as the objective, and utilizing only spherical optical surfaces. As we have seen, Schupmann himself in his later articles had demonstrated that an all-spherical aplanatic design was possible, using a singlet of ordinary flint for the corrector [cf. L. Schupmann, "Über Medial-Fernrohre von kurzer Brennweite," Zeitschrift für Instrumentenkunde 33 (1913), pp. 308-312, especially, p. 309; & "Berechnung der Medial-Fernrohre mit einfacher Spiegellinse," Zeitschrift für Instrumentenkunde 41 (1921), pp. 212-219]. But Ashcraft, by exploring the spherical aberration residuals which occurred when the size of a crown corrector was allowed to vary, discovered that residual spherical goes to zero when the ratio of corrector to objective size is about 1:1.86 [cf. Daley, Amateur Construction of Schupmann Medial Telescopes (Privately Printed, 1984), p. 27-32]. Very likely if Schupmann himself had lived long enough, he would have come to the same conclusion. In honor of Schupmann, Ashcraft dubbed this version of the Medial, the "Super-Schupmann." It is the design which I discussed and analyzed first in this chapter.

Many successful examples of Super-Schupmanns have been built in the last 30 years. Currently the largest amateur version exists in Vermont, USA at Stellafane [cf. http://www.stellafane.com/schupmann/schupmann.html]. This has an aperture of 330mm, making it marginally larger than the 1917 Heidelberg Medial [cf. http://home.arcor.de/maranelli/astro/teleskope.html]. Among ecclectic Medial designs, James Daley himself has recently completed a instrument with a split-field arrangement, requiring no element tilts. This is a design type originally suggested by James Baker in his 1954 Astronomcial Journal article [cf. http://www.stellafane.com/images/scope_gallery/daley.html].

But the largest Medial system ever built is apparently the solar telescope of the Royal Swedish Academy of Sciences in La Palma. This has an aperture of 970mm [cf. http://www.astro.su.se/groups/solar/NSST/], making it comparable in size with the instruments which Schupmann had hoped to build 100 years ago. And the glorious solar images it gives would make Schupmann cry with joy!

That completes our brief tour of Medial history. By contast with all this activity building Medials, the Brachymedial has remained practically stillborn. No large example was built during Schupmann's life, and I have only seen a handfull of reports of Brachymedials ever being built. The first was Schupmann's own 1893 model, used in a Herschelian arrangement; the second was Hellman's experimental 108mm model in 1941; and the third was Dwight's 200mm model in 1942. And Rolf Riekher reported that about 1960 the engineer Edwin Rolf, supported by the German Academy of Sciences in Berlin, had built a 700mm Brachymedial in Rathenow, Germany [cf. R. Riekher, Fernrohre und ihre Meister, 2nd ed. (Verlag Technik, 1990), p. 235]. This last was obviously the largest Brachymedial ever built. What may have happened to it, I do not know. I myself hope to build a 250mm f/12 Brachymedial with doublet objective and corrector.

And thus, we have covered nearly every significant type of refractive system for visual observation, from the simple cemented doublet achromats, to their air-spaced cousins, to the oil-spaced triplet apochromats with their superb color and field corrections, to the Petzval and sub-aperture color correctors, and finally to the Medial systems. It is a vast world of possibilities, many of which are indeed open to amateur telescope makers to build. They have only to acquire the knowledge of how these designs work and what can reasonably be expected from each one. The grinding and polishing are obstacles, but not insurmountable. Many sources of help, guidance, and encouragement now exist with the worldwide dissemination of the internet, email, and telescope making lists.