Two other ways to reach apochromatic correction are either a) by means of a "Petzval" telescope; or b) by means of a sub-aperture color corrector. The former consists of two widely separated doublet lenses which are constructed so as to compensate one another's aberrations and produce a better focus than any single doublet can. The latter consists of a small group of lenses which are inserted into the light-train of a pre-existing finished achromat in order to correct the achromat's secondary spectrum. Versions of the sub-aperture corrector have been marketed commercially, but I do not propose to speculate about these. Rather, I will show several corrective systems of my own devising, the first of which is indebted to an article published by Roland Christen in 1985.
The Petzval telescope and sub-aperture color correctors belong to a class of systems called "dialytic" or simply "dialytes," meaning the they consist of widely "separated" lens elements. Proposals for dialytic refractors go back 175 years to Alexander Rogers in 1828 [A. Rogers, "On the Construction of large Achromatic Telescopes,"
Memoirs of the Astronomical Society of London
3.2 (1829), pp. 229-233; cf. also H. King,
History of the Telescope
(Dover reprint, 1979), pp 191; R. Riekher,
Fernrohre und ihre Meister
, 2nd ed. (Verlag Technik, 1990), pp. 231-232; and importantly, A. Danjon & A. Couder,
Lunettes et Télescopes
(Paris, 1935), pp. 254-255].
The problem Rogers was trying to address was not the removal of secondary spectrum, but something more fundamental. Until the middle of the 19th century, it was difficult to obtain large homogeneous disks of flint glass [cf. Riekher, pp. 144ff. & p. 231; and King, pp. 176ff.]. Whereas crowns were far more easily made. Rogers' proposal, therefore, was to form the objective lens from a large singlet of crown glass, and then to insert a much smaller doublet of
both
flint and crown, positioned about halfway down the light-train in order to correct the primary spectrum and spherical aberration of the singlet objective.
The reason why Rogers proposed a doublet corrector, instead of just a small singlet of flint [as. J.J. von Littrow did in the same year: "Ein Beitrag zur Verbesserung achromatischer Objektive," in
Baugartners und Ettinghausens Zeitschrift für Physik und Mathematik
4 (1828), pp. 257-276], was that he wished to keep the optical power of the objective unchanged, and simply to correct the objective's primary spectrum by means of the flint. A singlet corrector of flint would necessarily change the telescope's optical power as it developed enough dispersion to correct the primary spectrum.
A modern interpretation of Rogers' plan is as follows:

1. Alexander Rogers' Dialytic Refractor
A prescription for a 150mm f/15 Rogers-type dialyte is as follows:


| | | | | | | |
| --- | --- | --- | --- | --- | --- | --- |
| Surface | Type | Radius | Thickness | Glass | Diameter | Conic |
| Object | Standard | Infinity | Infinity | | 0 | 0 |
| Stop | | 1167.125 | 15 | BK7 | 160 | 0 |
| 2 | | Infinity | 1120 | | 160 | 0 |
| 3 | Standard | 309.181 | 7.5 | BK7 | 90 | 0 |
| 4 | Standard | -712.448 | 5 | F2 | 90 | 0 |
| 5 | Standard | 399.224 | 1097.544 | | 90 | 0 |
| 6 | Standard | Infinity | 0.0118 | | 20.298 | 0 |
| Image | | Infinity | | | 20.298 | 0 |
Table 1: 150mm f/15 Rogers-Type Dialyte
On-axis the design works well, giving exactly the same image quality as an equivalent standard achromat: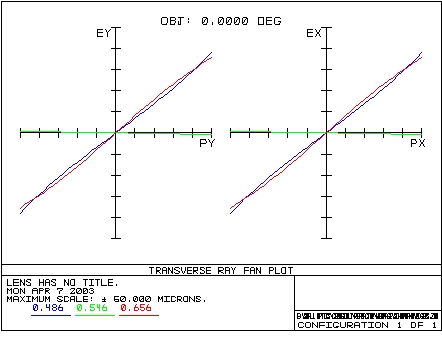 Figure 1: Axial Ray Fan Plots for a 150mm f/15 Rogers-Type Dialyte
But alas, off axis the system suffers from large primary lateral color, rendering it unfit for imaging objects: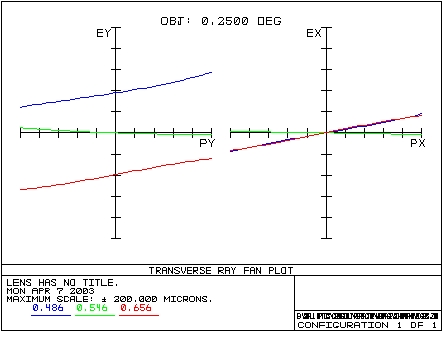 Figure 2: Ray Fan Plots for 150mm f/15 Rogers-Type Dialyte, 1/4 Degree Off-Axis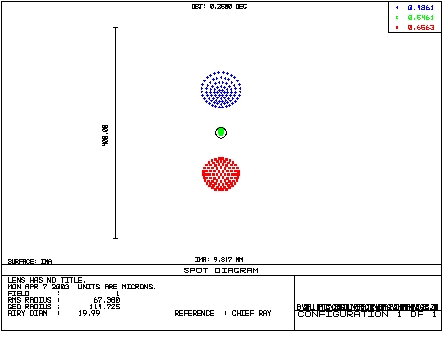 Figure 3: Spot Diagram for 150mm f/15 Rogers-Type Dialyte, 1/4 Degree Off-Axis
The lateral color is so bad that objects just slightly to away from the field-center would be blurred into obvious spectra--unless special compensating eyepieces are used to remove the problem. That was in fact done by G.S. Plössl, the famous Viennese optician, who built dialytes from data supplied to him by J.J. Prechtl and S. Stampfer, professors at the Vienna Polytechnic Institute, employing a modification of Rogers' design due to Stampfer [cf. Riekher, p. 232; King, pp. 191; and S. Czapski & O. Eppenstein,
Grundzüge der Theorie der optischen Instrumente nach Abbe
, 3rd ed. (Verlag J.A. Barth, 1924), p. 564]. The modification involved reversing the crown and flint elements in the corrector doublet. But the whole scheme, though reportedly successful, full into disuse after Plössl's death because of the increasing availability of large homogeneous disks of flint glass, which made the less complex and more versatile doublet achromat available in large sizes [Concerning the excellence of Plössl's dialytes, cf. Schumacher's remarks in
Astronomische Nachrichten
11 (1834), p. 137-140; Struve's in
Astronomische Nachrichten
13 (1836), pp. 37-38; and C.L. von Littrow's in
Astronomische Nachrichten
32 (1851), pp. 102].
The reason why Rogers' and Plössl's dialytes showed lateral color is well explained by A. Danjon and A Couder in their classic text,
Lunettes et Télescopes
(Paris, 1935), p. 254. To understand this explanation, one must understand a new concept--the "chief" or "principal" ray. A "chief" ray is one which emanates from an off-axis source (a star, for example) and passes directly through the center of the telescope's stop surface (in our case always the front surface of the objective). Chief rays for off-axis objects correspond to the optical axis for an on-axis object.
In the case of a hypothetical perfect lens of zero thickness, all chief rays pass undeviated. The following is a layout of a such a hypothetical lens: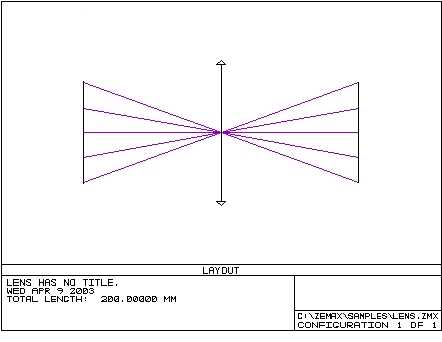 Figure 4: Paraxial Lens with Polychromatic Chief Rays.
The vertical black line at the center of the figure capped with arrowheads represents a perfect, so-called "paraxial" lens of 100mm focal length and 100mm aperture. It has no thickness. The 5 purple lines intersecting its center represent the optical axis and the 4 polychromatic chief rays coming from off-axis stars which lie at angular distances of -20, -10, +10, and +20 degrees from the axis. The two black vertical lines on right and left which terminate the cone of chief rays represent arbitrarily chosen endpoints of the illustration. As one can see, there is no obvious dispersion of the polychromatic rays after passage through the lens. One sees only a uniform purple color in the lines. And in fact, even if we magnified our view of the chief rays many thousands of times, we would still see no dispersion since there can be none by definition of a paraxial thin lens and a chief ray.
Real lenses, however, have finite thicknesses. And so in real lenses there is also a finite dispersion of the polychromatic chief rays on passage through them. Yet, so long as the real lenses remain thin in a practical sense relative to their focal lengths and do not contain large airspaces between their elements, the dispersion of the chief rays will be negligible. Thus, in fact, there is negligible dispersion (and lateral color) both in the Rogers/Plössl singlet objective, and in any of the achromats and apochromats previously presented--aside from the widely spaced elements of the large Clark lens, and the Gregory doublet apochromat.
Analysis of the chief rays' behavior is useful, because although an actual polychromatic ray fan coming from a real off-axis star would contain many more rays than just the central chief ray, nevertheless if a telescopic system causes the formation of lateral color, then the polychromatic chief rays will show lateral dispersion of their component colors, and it is easier to understand the behavior of just the chief rays than that of the entire polychromatic ray fan surrounding each chief ray. So in what follows I will confine my analysis to just the chief rays' behavior. But it is to be understood that their associated ray fans will exhibit the same off-axis behavior.
I have noted that in the Rogers/Plössl singlet and in the contact achromats and apochromats previously discussed there is no perceptible lateral color formed by passage of the light through the objective. So, how does the problem arise and become so prominent in the Rogers/Plössl dialytes? It arises because the polychromatic chief rays after passage through the objective strike the corrector
off-center
. Until this occurs, the system has produced no lateral color, but only longitudinal primary spectrum. Then the mischief happens: the off-center incidence on the corrector's face causes differential refraction of the polychromatic chief rays according to Snell's Law. From that point on, the different colors of light that composed the chief rays disperse along different paths through the corrector and never unite again.
One must recall that the corrector is intentionally
not
apochromatic; its whole reason for existence is to create negative primary spectrum which will compensate the positive primary spectrum of the objective. Thus the corrector intentionally refracts differing colors by differing amounts.
Therefore, given this design feature as well as the off-center incidence of the chief rays, the corrector in principle must cause lateral color and can do nothing to correct it.
If it were redesigned so as to cancel its own lateral color, then it would no longer cancel the primary longitudinal color of the objective, its chief goal. And so, we face a dilemma: if the corrector is to cancel the primary spectrum of the objective, it cannot cancel its own lateral color; if it cancels its own lateral color, it will no longer cancel the primary spectrum of the objective. This is a problem inherent in the design of all sub-aperture chromatic-correctors, and we will face it again later when we examine the chromatic-correctors used with achromats.
To illustrate the problem with images, I introduce the following two layouts. The first shows a closeup of a polychromatic axial ray and a polychromatic chief ray passing into and out of the corrector for a very fast Rogers-type dialyte:
Figure 5: Polychromatic Axial and Chief Ray
Passing Through a Rogers-Type Corrector
The upper ray is the chief ray, coming from a star fifteen degrees off-axis. The lower ray is the axial ray. Both rays are composed of five different colors. Clearly, the axial polychromatic ray shows no lateral disperion. Nor does the chief ray until it exits from the corrector. Then as it approaches the focal plan on the right, it clearly disperses into its component colors, showing obvious lateral color. A further closeup shows the dispersion even more clearly at the focal plane:
Figure 6: Closeup of Lateral Dispersion of a Chief Ray
at the Focal Plane in a Rogers-Type Dialyte
Of course, in Figures 5 and 6 I have intentionally exaggerated the lateral color problem in order to demonstrate it more clearly. Its magnitude in the 150mm f/15 Rogers-type design is far smaller, though still ruinous for general viewing--unless one uses special compensating eyepieces designed to nullify the effect [cf. Danjon & Couder, p. 255]. Such eyepieces would form an integral part of the dialytic telescope system, and could not be used with ordinary, non-dialytic systems. Focusing with them would require more care than is usual with ordinary eyepieces in non-dialytic telescopes [cf. L. Ambronn, Handbuch der astronomischen Instrumentenkunde (Springer, 1899), vol. 1, pp. 330-331], making a Rogers/Plössl dialyte less versatile than an ordinary doublet achromat.


A. Petzval Lens.
Joseph Petzval was a mid 19th century optical designer, one of whose achievements was a novel camera lens. It consisted of two doublet achromats, widely separated from one another, the second of which could itself be split into its component parts with an airgap between [cf. W. Smith,
Modern Optical Engineering
, 3rd ed. (McGraw-Hill, 2000), p. 465ff.]. The lens found favor because in its day it was far faster (i.e. had a smaller focal ratio) than existing camera lenses.
As far as I am aware, Petzval did not intend this invention to be used in telescopes, though it can be, even in the achromatic telescope. Its effect there seems to be the lessening of secondary spectrum by about 1/4-1/3. This allows a faster relative speed for the same amount of color error. And it has suggested another method for increasing the relative speed of apochromatic designs. Several commercial manufactures have apparently marketed fast apochromatic Petzval telescopes. Though I know nothing of those designs, it is not hard to formulate an apochromatic Petzval of one's own:
| | | | | | | |
| --- | --- | --- | --- | --- | --- | --- |
| Surface | Type | Radius | Thickness | Glass | Diameter | Conic |
| Object | Standard | Infinity | Infinity | | 0 | 0 |
| Stop | | 669.394 | 10 | K7 | 160 | 0 |
| 2 | | 388.377 | 0.5 | | 160 | 0 |
| 3 | Standard | 425.499 | 20 | Fluorite | 160 | 0 |
| 4 | Standard | 11096.5 | 700 | | 160 | 0 |
| 5 | Standard | 800.715 | 10 | LAK21 | 130 | 0 |
| 6 | Standard | 228.845 | 40 | | 130 | 0 |
| 7 | Standard | 246.795 | 20 | Fluorite | 130 | 0 |
| 8 | Standard | -502.525 | 749.600 | | 130 | 0 |
| 9 | Standard | Infinity | -0.00749 | | 18.346 | 0 |
| Image | | -690.183 | | | 18.336 | 0 |
Table 2: 150mm f/7 Petzval Apochromatic Telescope
Next, I give the layout:

2. 150mm f/7 Petzval Apochromat
Obviously, this design looks rather similar to the Rogers/Plössl dialyte, and yet it is fundamentally different and better. The Rogers/Plössl, as well as the sub-aperture chromatic-correctors to be shown below, all start from a finished primary lens--whether a singlet or a doublet achromat--and seek to correct its outstanding longitudinal color. Unfortunately, however, they all share the same basic problem, namely the lateral color which we have already seen so clearly above
But in the Petzval apochromat, we have a completely different situation. The four lenses function as one integral unit, each doublet compensating the aberrations of the other. The two separate doublets are useless apart from one another: they cannot separately form a functioning telescope. Each pair is afflicted with spherical aberration, as well as longitudinal and lateral color. But the faults of the objective doublet in each category almost exactly oppose those of the corrector doublet. This makes the system extraordinarily sensitive to errors in spacing, centration, and lens tilts. The system must be exquisitely balanced from a mechanical point of view, but if that can be achieved and maintained, the images will be excellent.
The axial ray fan plots and spot diagrams come next: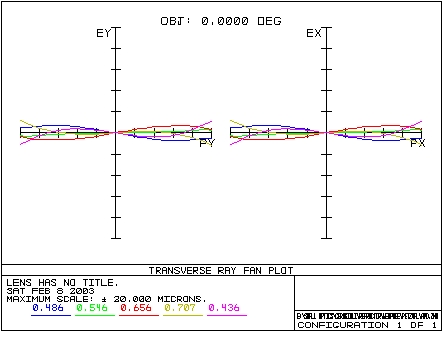 Figure 7: Axial Ray Fan Plots for a 150mm f/7 Petzval Apochromat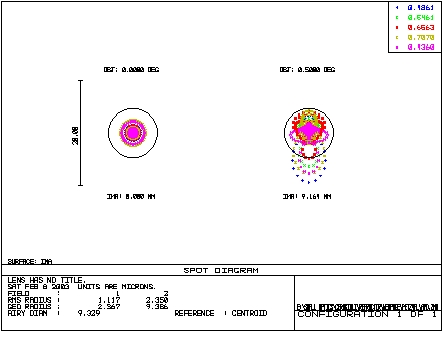 Figure 8: Spot Diagrams for a 150mm f/7 Petzval Apochromat
It is obvious at first glance how excellent the images are--both on-axis and at 1/2 degree off-axis--beautifully apochromatic and sharply focused. Only the four-element apochromat given at the end of Chapter 4b was better, in its off-axis performance. On the other hand, the Petzval has a much flatter field than any of the other f/7 lenses we have examined--a tribute to Petzval himself, whose scientific work involved him in understanding and reducing field curvature in camera lenses! Obviously, there is no comparison between this Petzval apochromat and the preceding Rogers dialyte.
B. Sub-Aperture Color Correctors for Achromats.
Next, I show two sub-aperture color correctors intended to eliminate or reduce the axial secondary spectrum of achromats. The first design stems from an article published by R. Christen in
Sky and Telescope
(Oct., 1985), pp. 375-378. My modification of that design involves using a finished 200mm f/15 Fraunhofer achromat. In addition, my corrector group (3 elements) contains one different glass and falls further up the light train than Christen's did. In itself my corrector exhibits zero power, spherical aberration, or coma. Thus, it affects none of the objective's properties or corrections, except the secondary spectrum and lateral color.
| | | | | | | |
| --- | --- | --- | --- | --- | --- | --- |
| Surface | Type | Radius | Thickness | Glass | Diameter | Conic |
| Object | Standard | Infinity | Infinity | | 0 | 0 |
| Stop | | 1814.668 | 20 | BK7 | 210 | 0 |
| 2 | | -1061.505 | 0.044 | | 210 | 0 |
| 3 | Standard | -1074.446 | 16.5 | F2 | 210 | 0 |
| 4 | Standard | -4433.625 | 1715 | | 210 | 0 |
| 5 | Standard | 276.251 | 17.5 | B58-53 | 95 | 0 |
| 6 | Standard | -119.968 | 6.5 | KzFSN2 | 95 | 0 |
| 7 | Standard | -119.968 | 12.5 | SK11 | 95 | 0 |
| 8 | Standard | 256.272 | 1178.559 | | 95 | 0 |
| 9 | Standard | Infinity | -0.00586 | | 26.130 | 0 |
| Image | | Infinity | | | 26.131 | 0 |
Table 3: 200mm f/15 Fraunhofer Achromat with a Triplet Sub-Aperture Color Corrector
The layout of the telescope as a whole is as follows:

3. 200mm f/15 Fraunhofer with Triplet Sub-Aperture Color Corrector
A closeup of the corrector triplet looks like so: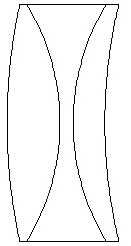 4. Triplet Sub-Aperture
Color Corrector
For this design we have the following performance:
Figure 9: Ray Fan Plots for a 200mm f/15 Fraunhofer
with Triplet Sub-Aperture Color Corrector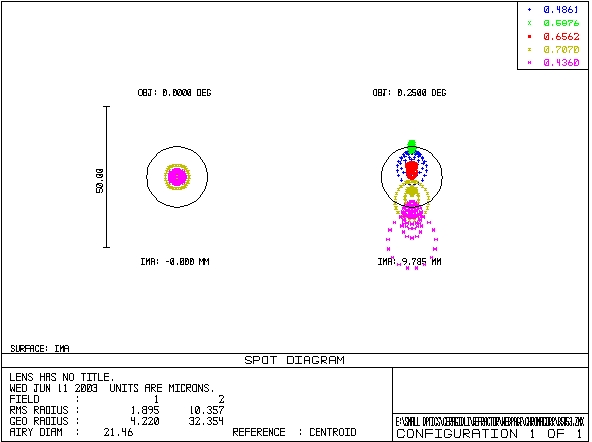 Figure 10: Spot Diagrams for a 200mm f/15 Fraunhofer
with Triplet Sub-Aperture Color Corrector
Figures 9 and 10 clearly show the excellence of the axial image. The 200mm Fraunhofer with the above triplet corrector should in principle give a very white appearance to a white star. But off-axis we can also clearly see the lateral color problem. And in these figures the off-axis star lies at a distance of only 1/4 degree from the field center. If we had analyzed a star at 1/2 degree, the problem would appear far worse.
Notice that the lateral color is now
secondary lateral
: the spectrum of colors from deep red to violet is folded back on itself, so that the green (e-line) falls closest to the optical axis, the red (C-line) and blue (F-line) fall nearly on top of one another, and the deep red (r-line) and violet (g-line) fall furthest from the axis. Thus the above lateral color error is achromatized for C- and F-. And just as achromatizing for primary longitudinal chromatic aberration radically diminishes that error, leaving only a residue of secondary spectrum, so too in moving from the primary lateral color of the Rogers (and Plössl) dialyte to the secondary lateral color of the present design, we radically diminish the lateral color error. Yet, for a critical observer the above system may still be uncomfortable near the edge of a large field. Stars on the margins of a 1 degree field may well show visible color fringing.
Of course, we should not exaggerate. The above dialyte presents a wonderful improvement over a conventional achromat. And if it could be built, we would be in possession of a very nice telescope.
Unfortunately, though, as we move our corrector group closer to the focus position, it has an increasingly difficult time correcting the achromat's errors. And at the same time, the corrector's increased relative distance from the stop surface render it increasingly prone to creating disturbing amounts of lateral color. Below I give my own design illustrating what could happen to an amateur astronomer who wished for a short focal length apochromat, but could only afford an achromat corrected by a sub-aperture chromatic corrector close to the focus.
The design involves a finished 150mm f/8 Fraunhofer achromat and a six-element chromatic corrector positioned about 250 mm from focus. The layout appears as follows:

5. 150mm f/8 Fraunhofer Objective with Color Corrector near Focus
Next I give a closeup of the corrector itself: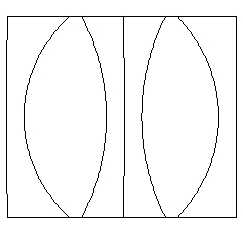 6. Six-Element Color Corrector
for use near Focus
The complete prescription for the system is as follows:
| | | | | | | |
| --- | --- | --- | --- | --- | --- | --- |
| Surface | Type | Radius | Thickness | Glass | Diameter | Conic |
| Object | Standard | Infinity | Infinity | | 0 | 0 |
| Stop | | 729.983 | 15 | BK7 | 160 | 0 |
| 2 | | -431.691 | 0.1 | | 160 | 0 |
| 3 | Standard | -436.291 | 7.5 | F2 | 160 | 0 |
| 4 | Standard | -1767.229 | 950 | | 160 | 0 |
| 5 | Standard | 1938.563 | 3 | FK3 | 34 | 0 |
| 6 | Standard | 22.657 | 14 | FPL53 | 34 | 0 |
| 7 | Standard | -36.148 | 3 | FK3 | 34 | 0 |
| 8 | Standard | -933.540 | 3 | SF4 | 34 | 0 |
| 9 | Standard | 38.358 | 13 | SF11 | 34 | 0 |
| 10 | Standard | -24.195 | 3 | SF4 | 34 | 0 |
| 11 | Standard | -224318 | 219.615 | | 34 | 0 |
| 12 | Standard | Infinity | 0.153 | | 10.613 | 0 |
| Image | | -496.571 | | | 10.598 | 0 |
Table 4: 150mm f/8 Fraunhofer Achromat with
Six-Element Sub-Aperture Color Corrector
Although the corrector consists of only four different glass types, it was found necessary to use six elements in order to obtain a cemented combination which would produce good correction. Of course, a wise optician would never make so complex a cemented lens. A simpler design would first be sought. Nevertheless, I give the design and prescription in order to demonstrate the corrections achievable, and the flaws in such a small color corrector placed so close to focus of an achromat.
The axial color correction is good, though not as good as in the preceding triplet design. In order to illustrate better the nature of the correction a more extensive selection of rays has been used. The spot diagrams will be shown in a form different from any used before. A so-called "matrix spot diagram" will be used in order to demonstrate the exact nature of the difficult color correction of this small chromatic corrector. Spots for both the axial image and for a star 1/4 degree off-axis are given: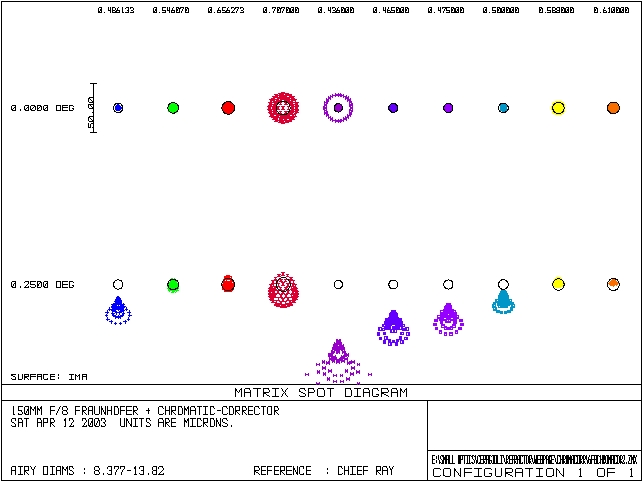 Figure 11: Axial and Off-Axis Matrix Spot Diagrams for a 150mm f/8 Fraunhofer Achromat
Corrected by Means of a Sub-Aperture Color Corrector Used Close to Focus
The additional colors used in the analysis range across the visual spectrum from orange at 0.610 micron, to yellow at 0.588 micron, to green-blue at 0.500 micron, to blue at 0.475 micron and on to indigo at 0.465 micron. It is easy to see that the axial correction is good, except at the extreme ends of the visual spectrum. But since these colors are so faint to the eye, their behavior is not important for visual observing.
Far more important is the obvious lateral color problem seen so vividly in the matrix spot diagram on the second line of Figure 11. It is clear that even 1/4 degree off-axis, this small color corrector is seriously flawed. It certainly does not begin to compare with an actual apochromat. The eye would see annoying color fringes on planets and stars at higher powers, when they are not positioned at the field center. Whereas at low powers the achromat by itself presents a sharply focused, excellent image with little annoying color. One would build the above color corrector only in the hope of obtaining apochromatic performance at high power. But here one would be disappointed.
An integrated off-axis spot diagram looks as follows: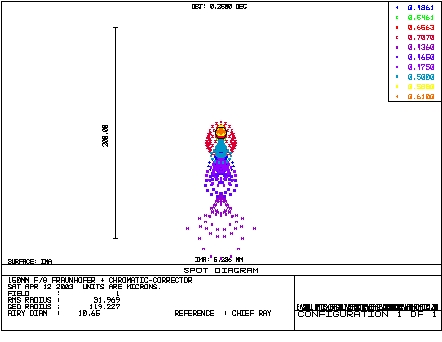 Figure 12: Integrated Off-Axis Spot Diagram for 150mm f/8 Fraunhofer
Achromat plus small Color Corrector
Again to emphasize, the lateral color error of dialytic correctors like that seen in the Rogers design and those seen with the two sub-aperture chromatic-correctors is inherent. As explained earlier, all these devices must cause lateral color because first, the chief rays from off-axis objects fall off the center of these correctors; and second, by their nature color correctors must refract different colors of light by differing amounts in order to correct the axial chromatic aberration produced by the objectives with which they are used.

Therefore, while it may be less expensive to produce a small achromat and color corrector, they certainly should not be considered as equivalent to an actual apochromat. That is abundantly clear from the evidence and arguments presented in this chapter and those which preceded it. On-axis their images may be quite good, but their useful fields at high-power are quite limited.